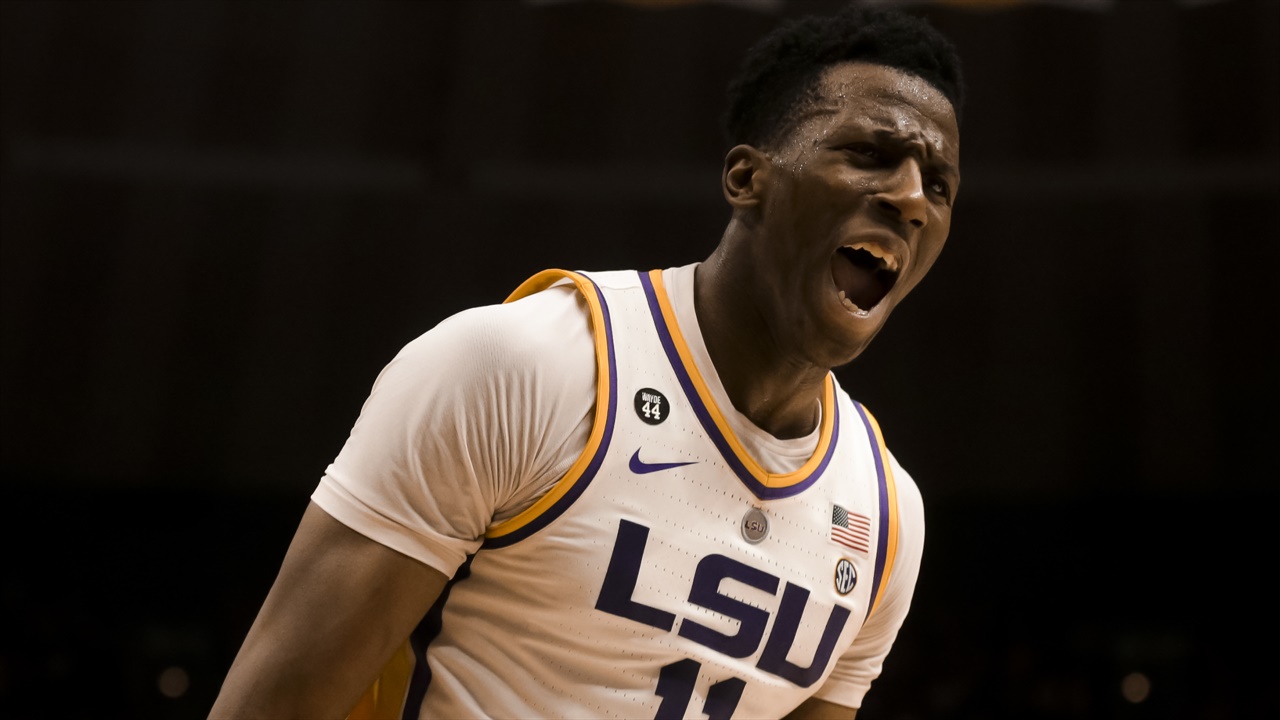 Photo by Derick E. Hingle-USA TODAY Sports
LSU Basketball
LSU developing its own 'Big Three'
---
$1-dollar gets you TigerBait.com Premium for 30 Days. CLICK HERE to subscribe
NBA teams desiring to win a championship seek to place three game-changers on their roster.
LSU had its own version of a 'Big Three' show up against Mississippi State last Wednesday night. Point guard Tremont Waters and post players Naz Reid and Kavell Bigby-Williams combined for 69 points in the Tigers' 92-88 overtime victory over the Bulldogs in Starkville.
Waters scored 26 points and handed out five assists. He made 11 of his 18 shots from the field. Reid matched his season-high with 29 points – six coming in the final minute of the overtime period. Bigby-Williams recorded another double-double with 14 points and 13 rebounds.
"It was fun playing in a game like that," Waters said. "Coach (Will Wade) puts us in specific situations in practice. That helps us a lot. We've got five guys on the court who are not going to get rattled. We know we are going to have these late-game situations."
Waters, Reid and Bigby-Williams have been LSU's top three performers in the first half of the Southeastern Conference schedule. These three players have helped the Tigers win eight of their first nine league games going into Saturday's game against Auburn at the PMAC (1 p.m. Central/ESPN2).
In conference games, Waters is averaging 20 points and six assists. He is shooting 50 percent from the field, including 38 percent on 3-pointers. Reid is contributing 16 points and six rebounds a game. He is shooting 49 percent from the field, including 53 percent on 3-pointers.
Waters and Reid were highly-rated players when they signed with LSU. Reid was considered to be a possible NBA lottery pick last summer after one season. Reid's output lately is letting everyone understand why he was ranked in such a way.
"All of us were used to having the ball in our hands (in high school)," Waters said. "Naz has grown playing with the ball not in his hands. He makes all the little plays off the ball now which makes him a really good player."
Waters and Reid have become quite adept at a two-man game – using pick-and-rolls and pick-and-pops. Mississippi State had no answer for those plays.
"Coach Wade put in these plays for us," Reid said. "It has been working so far. Sometimes the other team goes for Tre and leave me wide open. Tre is then able to get me the ball. If the next defender comes up to me when I get the ball, I know our next guy is wide open."
Reid exhibited his two different offensive skills in the final minute against Mississippi State. His old-fashioned three-point play gave the Tigers the lead for good. Then, Reid's 3-point basket put LSU ahead by four points with 15 seconds to play. Reid scored 24 of his 29 points after halftime.
"I wasn't going aggressively in the first half," Reid said. "I did not want to pick up an offensive foul. Once the game went on, I pinned my ears back and went to the basket. I am getting a lot of chances to score on the block or pass the ball to an open player."
Bigby-Williams was not expected to be a major contributor for the Tigers. Wade was simply hoping that Bigby-Williams, who sat out last season after transferring from Oregon, would provide some post defense. Bigby-Williams is blocking two shots per game against SEC opponents.
In addition, Bigby-Williams is doing other things for LSU. A former junior college All-American, Bigby-Williams is contributing nine points and eight rebounds per game in SEC play. Bigby-Williams is making 73 percent of his field goal attempts against SEC teams. He was 6-of-6 from the field at Mississippi State.
"My basketball IQ is better now than what it was at Oregon," Bigby-Williams said. "I know where the other players are going to be. My scoring is just a bonus.
"My basketball IQ is better now than what it was at Oregon," Bigby-Williams said. "I know where the other players are going to be. My scoring is just a bonus.
"We have talent on this team. We have guys who can do multiple things on the court. We have depth which is something you need in the postseason. The team at Oregon (which advanced to the Final Four) had a lot of depth, a lot of people who could do different things – just like this LSU team."
The Tigers cannot celebrate the victory against the Bulldogs with Auburn coming to the PMAC. Auburn is led by point guard Jared Harper, who is averaging 15 points and six assists per game. Wing Bryce Brown, who is Auburn's top scorer at 17 points per game, is making 41 percent of his 3-point shots.
"Our last home game against Arkansas did not end well," Waters said. "We realized that every play matters and every game matters. We did not have a great feeling after that game and it starts with me. I have to have a better approach.
"We have to get back in transition and stop the ball. If we do that, we can stop the 3-pointer." We must focus on stopping Jared Harper and Bryce Brown."

LSU Tigers Colosseum Nelson Polo - Black
from: Fanatics
Never miss the latest news from TigerBait.com!
Join our free email list