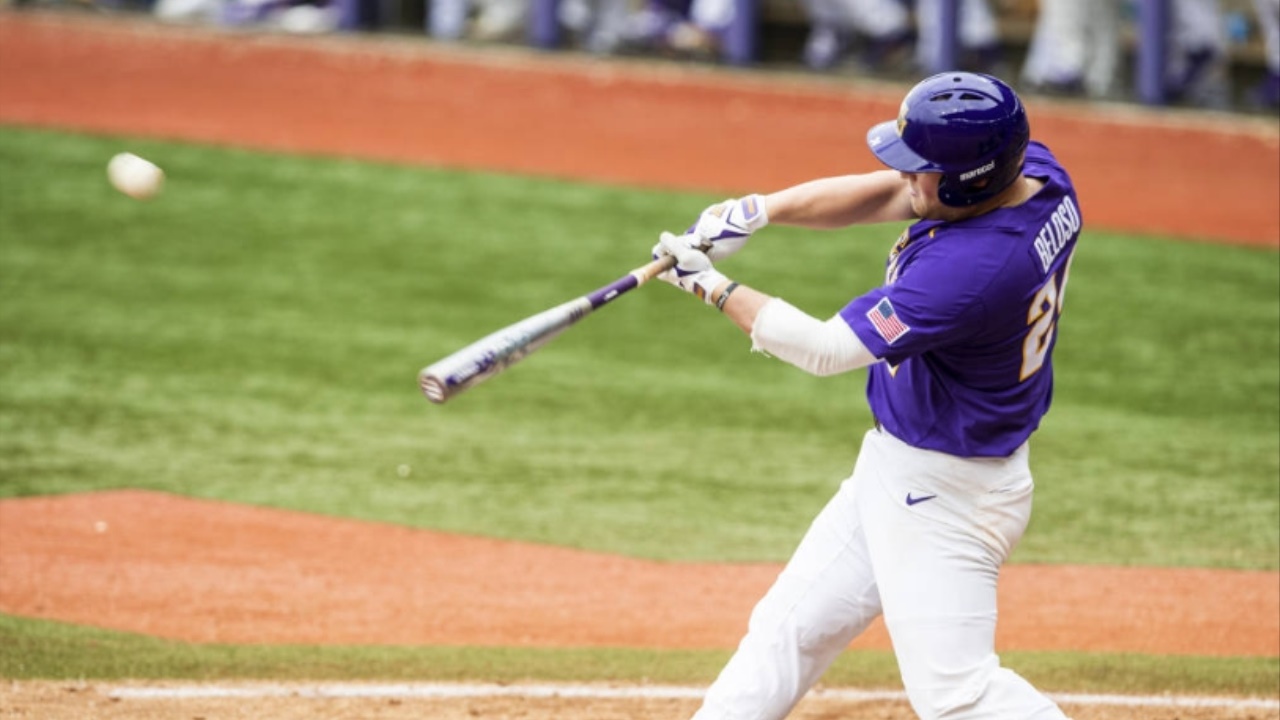 Photo by Gus Stark, LSU
LSU Baseball
Cade Beloso's 3-run walk-off HR gives LSU 6-5 victory over Army
---
Freshman Cade Beloso hit a three-run walk-off home run in the bottom of the ninth inning to give LSU a 6-5 victory against Army at The Box on Saturday afternoon.
HOW THEY SCORED
LSU first inning – Josh Smith singled. Smith scored and Brandt Broussard reached third when pitcher Daniel Burggraaf made a throwing error on his bunt. Broussard scored on a sacrifice fly to the centerfielder by Antoine Duplantis. LSU 2, ARMY 0
Army sixth inning – Trey Martin walked and advanced to second on a sacrifice bunt by Jacob Hurtubise. Martin scored on a single by Drake Titus. LSU 2, ARMY 1
Army seventh inning – Jeremiah Adams singled and moved to second on a sacrifice bunt by Carter Macias. After pinch-hitter John McKenna walked, Adams scored on a single by Martin. Hurtubise walked to load the bases. After Titus struck out, Anthony Giachin drove home pinch-runner Anfernee Crompton, Martin and Hurtubise with a double. ARMY 5, LSU 2
LSU seventh inning – With one out, Saul Garza walked and Beloso singled. Pinch-runner Giovanni DiGiacomo went to third and Beloso advanced to second on a wild pitch by Cam Opp. DiGiacomo scored on a balk by Opp. ARMY 5, LSU 3
LSU ninth inning – Zach Watson and DiGiacomo walked. Beloso hit a three-run homer over the rightfield fence. LSU 6, ARMY 5
LSU PLAYER OF THE GAME
Making the first start of his Tigers career, Beloso delivered the game-winning hit on a line drive over the rightfield fence. Beloso's three-run homer wiped out a 5-3 Army lead. Beloso also singled in the seventh inning. He finished the day at 2-for-4. Beloso's home run was the only hit with a runner in scoring position during the entire game for LSU.
KEY TEAM STATISTICS
Hits: LSU 7, Army 6
Errors: Army 1, LSU 1
Left on base: Army 9, LSU 4
Runners in scoring position: Army 3-for-11, LSU 1-for-8
Double plays: Army 1, LSU 1
Stolen bases: Army 3, LSU 1
Walks issued: Army 3, LSU 8
Strikeouts recorded: LSU 9, Army 5
INDIVIDUAL LEADERS
LSU
Brandt Broussard: 2-for-3, 1 run scored
Cade Beloso: 2-for-4, 1 run scored, 3 RBIs, 1 HR
Josh Smith: 2-for-4, 1 run scored
Giovanni DiGiacomo: 0-for-0, 2 runs scored
Landon Marceaux: 5.2 IP, 2 H, 1 R, 1 ER, 3 BB, 5 K
ARMY
Trey Martin: 2-for-3, 2 runs scored, 1 RBI, 1 2B
Anthony Giachin: 1-for-4, 3 RBIs, 1 2B
Daniel Burggraaf: 6.1 IP, 4 H, 3 R, 1 ER, 1 BB, 5 K
NOTES
LSU's starting batting order was Smith, SS; Broussard, 2B; Duplantis, RF; Daniel Cabrera, LF; Watson, CF; Garza, DH; Beloso, 1B; Brock Mathis, C; Hal Hughes, 3B. . .Burggraaf allowed only two base runners to get into scoring position from the second through the sixth innings. Duplantis flied out with Broussard at second to end the third. Garza grounded out and Beloso flied out with Cabrera in scoring position in the fourth. . .Burggraaf retired ten batters in a row between Cabrera's leadoff single in the fourth and Garza's one-out walk in the seventh. . .LSU had scoring opportunities in both the seventh and eighth innings. Both Mathis and Hughes flied out to the centerfielder with a runner at third base in the seventh. After leadoff singles by Smith and Broussard in the eighth, Duplantis hit into a 4-6-3 double play and Cabrera popped out to the shortstop. . .Marceaux gave the Tigers five strong innings before tiring in the sixth. Marceaux shut out Army on one hit in the first five innings. The Cadets put runners in scoring position only in the fourth. Marceaux struck out Josh White to end the inning. Marceaux walked two and gave up a RBI single by Titus in the sixth. . .Freshman Chase Costello had a rough LSU debut. Costello did get White to ground out with runners on first and second to end the sixth. But, he was charged with four runs in the seventh when Army went ahead 5-2. Costello gave up two singles and issued two walks. He left the game with the bases loaded and two out and the score tied at 2-2. Trent Vietmeier gave up Giachin's three-run double. . .Freshman Riggs Threadgill made his first appearance in the eighth. He walked one of the three batters he faced. Junior college transfer Aaron George relieved Threadgill with a runner on second and two out. George struck out Blake Ledoux. . .Todd Peterson pitched a scoreless ninth although Army did load the bases on a double by Martin and two walks, one intentional. Peterson struck out White for the third out. Peterson got credit for the victory when Beloso hit his home run in the bottom of the ninth. . .A new college rule came into play in the Army seventh. With the bases loaded, Titus was hit by a pitch. However, home plate umpire Eddie Newsom ruled that Titus moved into the pitch. In such circumstances now, the pitch is automatically called a strike. Titus had two strikes on him before the pitch, so he struck out. A video review confirmed the call. . .LSU is 2-0, while Army is 1-1. . .The paid attendance was 11,656. The actual crowd was about 7,800.
UP NEXT
LSU will play Air Force at The Box on Sunday. First pitch is scheduled for 3 p.m. Central. The Falcons (0-1) played Louisiana-Monroe at The Box on Saturday night. Jaden Hill will be the starting pitcher for the Tigers. The LSU-Air Force game will be available on the SEC Digital Network.

LSU Tigers Nike Vapor Untouchable Elite Full-Button Replica Baseball Jersey - Gold
from:
Fanatics
Never miss the latest news from TigerBait.com!
Join our free email list