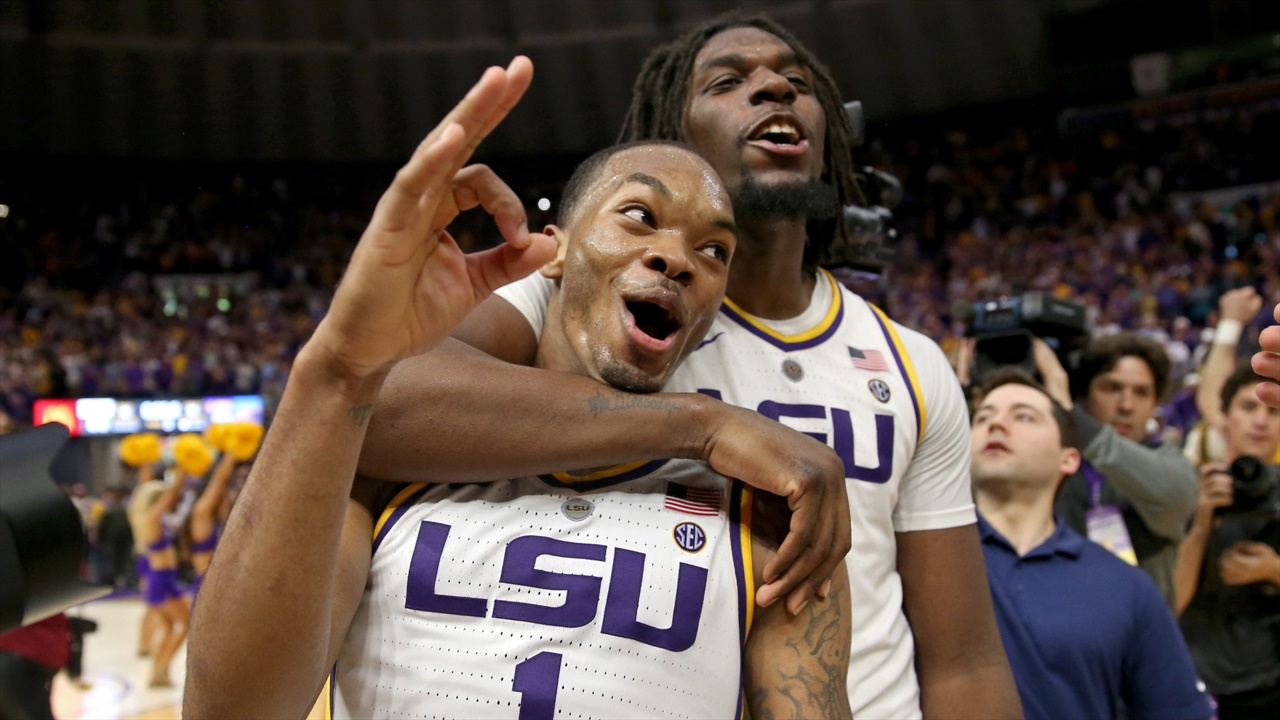 Photo by Chuck Cook-USA TODAY Sports
LSU Basketball
Javonte Smart's two free throws give LSU 82-80 overtime win over Tennessee
---
Javonte Smart, playing point guard in the absence of Tremont Waters, made two foul shots with less than one second remaining in overtime to give LSU an 82-80 victory against Tennessee in a Southeastern Conference game at the PMAC on Saturday afternoon.
DECISIVE STRETCH OF THE GAME
Both teams got off to slow starts during the overtime period. The two teams both made one field goal in the first three minutes of the extra period. The Vols had two turnovers and one missed shot, while the Tigers had two missed shots and one turnover. A field goal by Admiral Schofield put Tennessee on top 75-73 with 1:55 remaining. Smart tied the score with two free throws on LSU's next possession. Following a missed Vols field goal attempt, Smart's layup gave the Tigers a 77-75 lead with 1:01 to play. Grant Williams tied the score with a field goal in the lane. Naz Reid made one of two foul shots to put LSU in front 78-77 with 34 seconds remaining. Tennessee got the lead back when Williams converted a three-point play on its next possession. The Tigers tied the score at 80-80 on a put-back basket by Kavell Bigby-Williams with eight seconds to play. The Vols' Lamonte Turner missed a 3-point shot with one second remaining. Smart grabbed the rebound and was fouled by Williams. Smart sank the game-winning free throws with .6 seconds left.
LSU PLAYER OF THE GAME
Smart, who has never shied away from the big moment in his freshman season, came up huge as he stepped in for Waters. The 29 points were a season-high for Smart. He was 9-of-22 from the field, including 2-of-6 on 3-pointers, and 9-of-10 on foul shots. Smart's nine field goals and nine foul shots were season-highs. He also handed out five assists, grabbed five rebounds and made three steals. After committing four turnovers in the first half, Smart did not turn the ball over in the second half and overtime. With the Tigers trailing 64-55, Smart scored their next 11 points. Smart's field goal with 2:41 remaining in regulation left LSU behind Tennessee 67-66.
KEY TEAM STATISTICS
Field goal shooting: Tennessee 45% (30-of-67), LSU 39% (25-of-65)
Three-point field goal shooting: Tennessee 36% (8-of-22), LSU 32% (8-of-25)
Free throw shooting: LSU 77% (24-of-31), Tennessee 75% (12-of-16)
Rebounds: Tennessee 43, LSU 37
Turnovers: LSU 7, Tennessee 14
Points off turnovers: LSU 17, Tennessee 9
Steals: LSU 7, Tennessee 4
Points in the paint: LSU 30, Tennessee 22
Bench points: LSU 17, Tennessee 8
INDIVIDUAL LEADERS
LSU
Javonte Smart: 29 points, 5 assists, 5 rebounds
Skylar Mays: 23 points
Kavell Bigby-Williams: 10 points, 10 rebounds
Emmitt Williams: 5 points, 5 rebounds
Naz Reid: 1 point, 7 rebounds
TENNESSEE
Admiral Schofield: 27 points, 9 rebounds
Grant Williams: 18 points, 9 rebounds
Jordan Bone: 13 points
Kyle Alexander: 7 points, 6 rebounds
Jordan Bowden: 4 points, 5 rebounds
NOTES
LSU's starting lineup consisted of Bigby-Williams and Reid in the post, Mays and Marlon Taylor on the wings and Smart at point guard. LSU officials announced prior to the game that Tremont Waters was sick. Waters was not at the arena. Wade said that Waters is day-to-day. He may have been ill during the Florida game on Wednesday. All five starters played more than 25 minutes. Mays did not come out of the game and Smart was on the bench for one minute. . .Mays was able to get the ball to the rim all day against the Vols. As a result, Mays went to the foul line a career-high 12 times. He made ten free throws which matched his career-best. Mays was 5-of-14 from the field, including 3-of-9 on 3-pointers. . .Bigby-Williams, who had the put-back basket which tied the score at 80-80, registered his fifth double-double against a SEC opponent. He was 5-of-8 from the field while playing a season-high 33 minutes. . .Besides not having Waters in uniform, the Tigers got just one point from Reid in 28 minutes. Reid missed all but four minutes in the first half because of foul trouble. He missed all nine of his field goal attempts, including two from behind the 3-point line. Reid had scored 102 points in LSU's six previous games. . .The Tigers also received little output from Taylor, who had two points and one rebound in 31 minutes. . .Darius Days and Emmitt Williams combined for 14 points and nine rebounds. Days, who had nine points and four rebounds, fouled out in 21 minutes. Williams scored his five points and grabbed his five boards in just 16 minutes of playing time. . .Former walk-on Marshall Graves played seven minutes and made a 3-pointer. . .Tennessee built a six-point lead at 18-12 in the first seven minutes of the game. Bone and Schofield each scored five points for the Vols. . .LSU tied the score at 18-18 after consecutive 3-pointers by Smart and Mays. . .The Tigers took a 31-30 lead on a basket by Smart with 3:27 before halftime. Tennessee then scored the last six points of the half to go ahead 36-31. . .The Volunteers had two nine-point leads in the second half – the last at 64-55 with 6:43 to play. LSU finally tied the score at 69-69 on a Mays' 3-pointer with 1:19 to play in regulation. In the final minute, Mays sank two foul shots and Williams made a tying field goal for the Volunteers. . .The overtime game was the sixth of the season for the Tigers – a school record. LSU has won four of the six overtime games. . .The Tigers are 22-5 overall, 12-2 in the SEC. Tennessee is 24-3 overall, 12-2 in the SEC. There is a three-way tie for first place in the conference among LSU, Tennessee and Kentucky. The Wildcats beat Auburn 80-53 on Saturday afternoon. . .The paid attendance was 13,581. The actual crowd was about 13,000.
FROM THE LOCKER ROOM
Coach Will Wade's comments: "This was obviously a tremendous win for us under a lot of adversity. When you don't have Tremont, you have a little narrower path to win. Javonte was phenomenal. I told somebody before the game that it probably wasn't going to be aesthetically pleasing, but he's going to get the job done. That's what he does. We had to pretty much flip our game plan in a night. We did an extra walk-through Saturday morning. The initial plan was to feed Naz the ball down low. Then, he got two fouls and that really hurt us. In the second half, we turned the game by getting the ball in the paint and being able to beat them in the paint. We only turned the ball over seven times and that's huge."
UP NEXT
LSU will play host to Texas A&M at the PMAC on Tuesday. Tipoff is scheduled for 8 p.m. Central. The Aggies (11-14, 4-9) played Arkansas in Fayetteville on Saturday night. The LSU-Texas A&M game will be available on ESPN2.

LSU Tigers Nike Baseball Performance Legend Raglan 3/4-Sleeve T-Shirt - Purple
from: Fanatics
Never miss the latest news from TigerBait.com!
Join our free email list