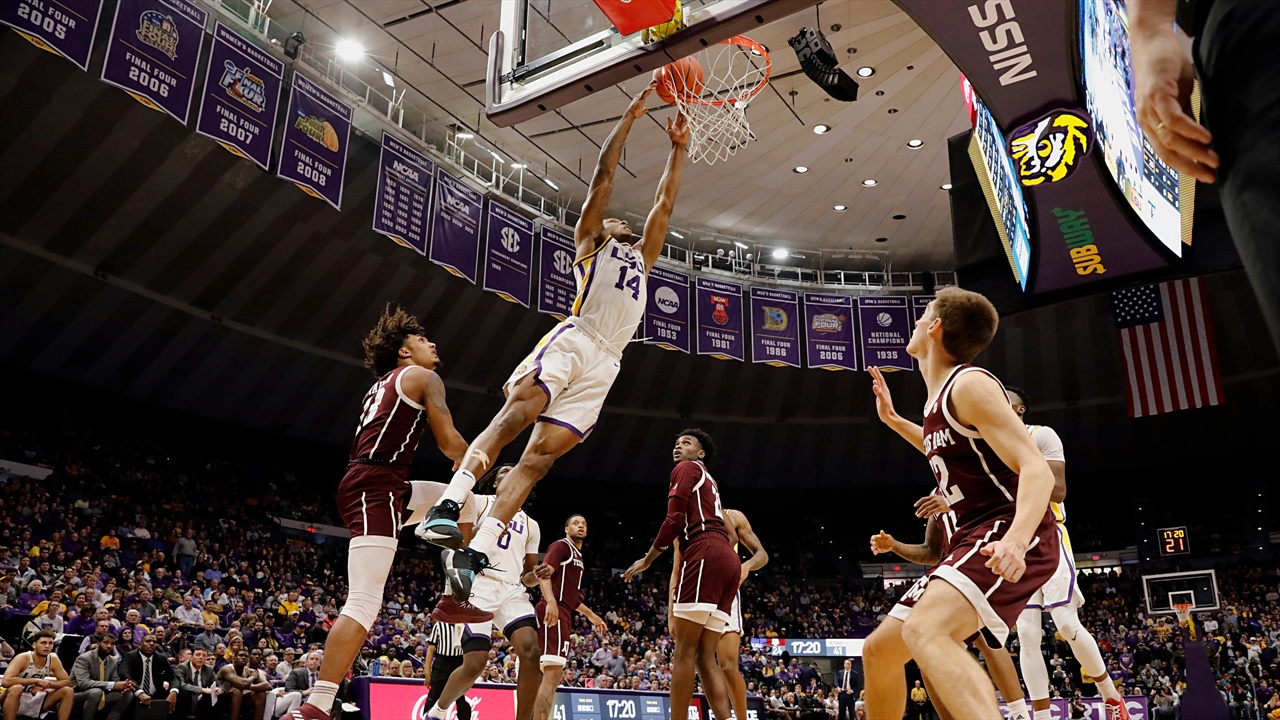 Photo by Stephen Lew-USA TODAY Sports
LSU Basketball
Reid and Bigby-Williams lead LSU over Texas A&M 66-55
---
Both Naz Reid and Kavell Bigby-Williams recorded double-doubles as LSU defeated Texas A&M 66-55 in a Southeastern Conference game at the PMAC on Tuesday night.
DECISIVE STRETCH OF THE GAME
The Tigers, who never trailed in the game, pulled comfortably ahead in the latter stages of the first half. Holding a nine-point lead, LSU went on a 12-0 run. Javonte Smart started the outburst with a foul shot. Kavell Bigby-Williams' three-point play closed the spurt and put the Tigers in front 34-13 with 3:34 before halftime. Skylar Mays had a field goal and two foul shots in the middle of the run. The Aggies, who went almost five minutes without scoring, missed five shots and committed three turnovers in this span. Texas A&M cut its deficit to fewer than ten points just one time in the last 23 minutes.
LSU PLAYER OF THE GAME
After scoring only one point in the Tigers' victory against Tennessee last Saturday, Reid responded with one of his best games of the season. Reid scored 18 points and grabbed 11 rebounds for his fourth double-double of the season – his third against a SEC opponent. Reid was 6-of-12 from the field and 6-of-6 at the foul line. Reid got off to a quick start with eight points in the first nine minutes.
KEY TEAM STATISTICS
Field goal shooting: LSU 35% (23-of-66), Texas A&M 32% (19-of-60)
Three-point field goal shooting: Texas A&M 18% (4-of-22), LSU 11% (2-of-19)
Free throw shooting: LSU 86% (18-of-21), Texas A&M 72% (13-of-18)
Rebounds: LSU 47, Texas A&M 41
Turnovers: LSU 9, Texas A&M 12
Points off turnovers: LSU 17, Texas A&M 6
Assists: LSU 11, Texas A&M 6
Steals: LSU 10, Texas A&M 5
Points in the paint: LSU 40, Texas A&M 22
Bench points: Texas A&M 20, LSU 0
INDIVIDUAL LEADERS
LSU
Naz Reid: 18 points, 11 rebounds
Javonte Smart: 17 points, 7 rebounds
Skylar Mays: 11 points, 6 rebounds, 5 assists
Kavell Bigby-Williams: 10 points, 11 rebounds
Marlon Taylor: 10 points
TEXAS A&M
Wendell Mitchell: 14 points
Christian Mekowulu: 11 points
Jay Jay Chandler: 8 points, 5 rebounds
Brandon Mahan: 7 points, 8 rebounds
Josh Nebo: 7 points, 7 rebounds
Savion Flagg: 3 points, 5 rebounds
NOTES
LSU's starting lineup consisted of Bigby-Williams and Reid in the post, Mays and Taylor on the wings and Smart at point guard. Every starter played more than 25 minutes. Reid was on the floor for a team-high 38 minutes. Tremont Waters was not in uniform, but he was sitting on the bench. . .Bigby-Williams registered his eighth double-double of the season – his sixth against SEC teams. Bigby-Williams, who blocked three shots, was 4-of-7 from the field. . .Taking over again for Waters at point guard, Smart was 6-of-16 from the field, including 2-of-6 on 3-pointers. Smart had three assists and three steals. He committed three of the Tigers' nine turnovers. . .All five of Taylor's field goals involved dunks. He had four dunks and was awarded a basket when a fifth dunk attempt was goal-tended. Taylor was 10-of-15 from the field. . .None of LSU's backups scored a point. Marshall Graves was 0-for-4 on field goal attempts in 14 minutes. Emmitt Williams missed three field goal attempts in 12 minutes. Darius Days missed his lone shot attempt in 11 minutes. . .Aggies point guard TJ Starks left the game in the first half with a serious shoulder injury. Starks had five points and four turnovers in 13 minutes. . .In the first half, all 36 LSU points came either in the paint (24) or at the foul line (12). . .The Tigers, who led 36-20 at halftime, extended their advantage to 19 points in the first four minutes of the second half. The only time the Aggies trailed by single digits after halftime came at 61-52 on a 3-pointer by Chandler with 2:32 remaining. . .LSU swept the two-game series from Texas A&M for the second straight season. . .The Tigers are 23-5 overall, 13-2 in the SEC. LSU remained tied with Kentucky for first place in the SEC standings. The Wildcats beat Arkansas 70-66 in Lexington on Tuesday night. Tennessee can move into a first-place tie with LSU and Kentucky by winning at Ole Miss on Wednesday night. . .The Tigers have won at least 23 regular-season games for just the fourth time in school history. The 1981 team won 27 regular-season games, the 2000 team won 25 regular-season games and the 2009 team also won 25 regular-season games. . .Texas A&M is 12-15 overall, 5-10 in the SEC. . .The paid attendance was 9,614. The actual crowd was a little less than 8,000.
FROM THE LOCKER ROOM
Coach Will Wade's comments: "We set the tone early with our defense. Our guys prepared well. We had a mature way about us. I think we learned from previous games when we didn't play well after winning big games. It was good to have Tremont back on the bench. He's doing much better, but he's not 100 percent. He probably could have played a little, but he hadn't practiced."
UP NEXT
LSU will play Alabama at Coleman Coliseum in Tuscaloosa on Saturday. Tipoff is scheduled for 11 a.m. Central. The Crimson Tide (17-11, 8-7) defeated South Carolina 68-62 in Columbia on Tuesday night. The LSU-Alabama game will be available on ESPN.
Never miss the latest news from TigerBait.com!
Join our free email list