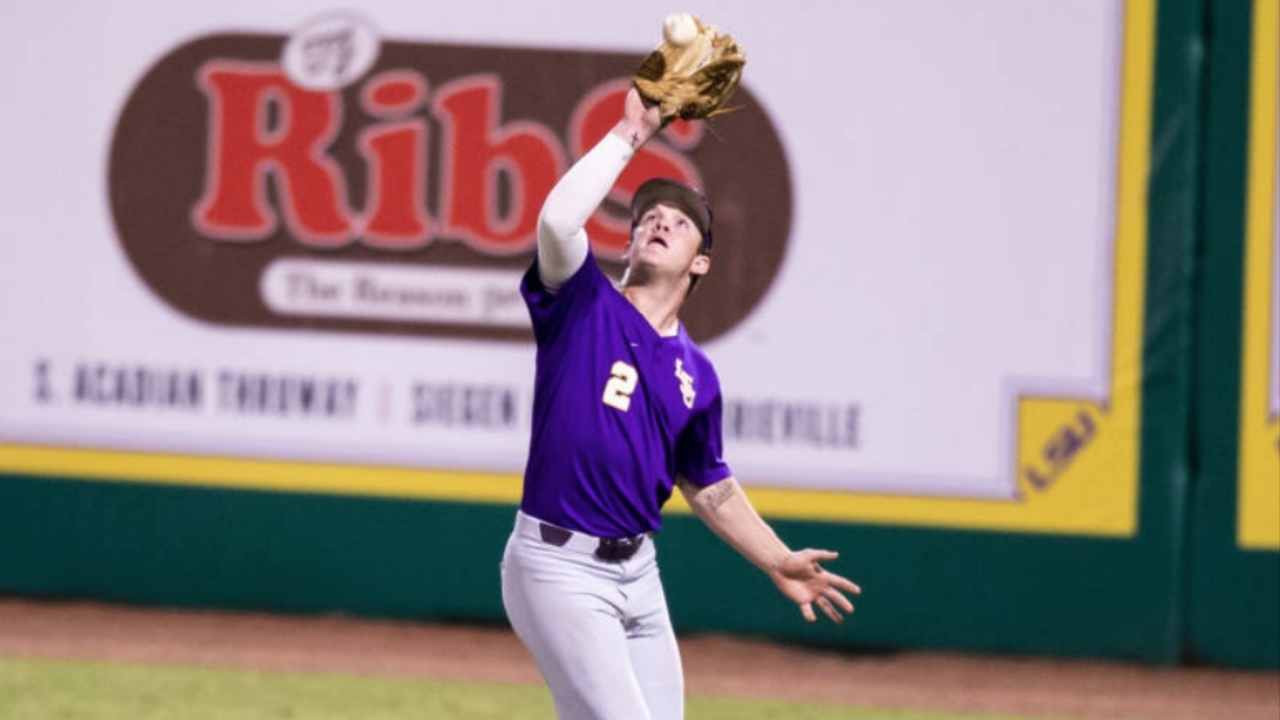 Photo by LSU Athletics Creative Services
LSU Baseball
LSU drops second straight game to Texas 8-4
---
Texas scored six runs in the second inning and cruised to an 8-4 victory against LSU in a non-conference game at UFCU Disch-Falk Field in Austin on Saturday afternoon.
HOW THEY SCORED
Texas second inning – Tate Shaw was hit by a pitch and Michael McCann walked. Masen Hibbeler singled to load the bases. After Bryce Reagan struck out, Shaw scored on a walk to Duke Ellis. McCann and Hibbeler scored and Ellis advanced to third on a single by Eric Kennedy. Ellis scored on an infield single by Austin Todd. Kennedy and Todd executed a double steal. Kennedy scored and Todd moved to third on a wild pitch by Landon Marceaux. Todd scored on a double by Zach Zubia. TEXAS 6, LSU 0
LSU third inning – With one out, Josh Smith and Zach Watson singled. Antoine Duplantis singled to load the bases. Smith and Watson scored on a double by Daniel Cabrera. Duplantis scored on a ground out to the first baseman by Cade Beloso. TEXAS 6, LSU 3
Texas third inning – Hibbeler walked and advanced to second on a ground out to the catcher by Reagan. Ellis walked. Hibbeler moved to third and Ellis went to second on a balk by Aaron George. Hibbeler scored when the first baseman Beloso made an error on Kennedy's ground ball. Ellis scored on a single by Todd. TEXAS 8, LSU 3
LSU seventh inning – Chris Reid doubled and Brock Mathis walked. Mathis was forced at second on a ground ball to the shortstop by Brandt Broussard. Reid scored when the second baseman Hibbeler made a throwing error trying to complete the double play. TEXAS 8, LSU 4
LSU PLAYER OF THE GAME
Cabrera had the lone big hit in the game for the Tigers. With LSU behind 6-0, Cabrera hit a two-run double with the bases loaded no one out in the third. Duplantis, who went to third on Cabrera's double, then scored on an infield out.
KEY TEAM STATISTICS
Hits: LSU 6, Texas 5
Errors: LSU 1, Texas 2
Left on base: Texas 9, LSU 5
Runners in scoring position: Texas 5-for-13, LSU 2-for-8
Double plays: LSU 1, Texas 0
Stolen bases: Texas 4, LSU 0
Walks issued: Texas 3, LSU 11
Strikeouts recorded: Texas 13, LSU 6
INDIVIDUAL LEADERS
LSU
Chris Reid: 2-for-2, 1 run scored, 1 2B
Daniel Cabrera: 1-for-4, 2 RBIs, 1 2B
Matthew Beck: 3.2 IP, 3 BB
Ma'Khail Hilliard: 2 IP, 1 BB, 3 K
TEXAS
Austin Todd: 2-for-5, 1 run scored, 2 RBIs
Masen Hibbeler: 1-for-3, 2 runs scored
Eric Kennedy: 1-for-5, 1 run scored, 3 RBIs
Duke Ellis: 0-for-2, 2 runs scored, 1 RBI
Blair Henley: 6 IP, 5 H, 4 R, 3 ER, 3 BB, 6 K
Cole Quintanilla: 3 IP, 1 H, 7 K
NOTES
LSU's starting batting order was Smith, SS; Watson, CF, Duplantis, RF; Cabrera, LF; Beloso, 1B; Giovanni DiGiacomo, DH; Hal Hughes, 3B; Mathis, C; Broussard, 2B. . .Reid entered the game at third base in the sixth inning and had two hits – a double and a single. . .Smith extended his hitting streak to ten games. . .The starters in the fifth through nine ninth spots in the batting order were 0-for-14. . .The Tigers got a runner past first base in just three innings. LSU's best chance at getting back in the game came in the third. With the Tigers trailing 6-3, Di Giovanni struck out with a runner at third and two out. . .LSU struck out 13 times against two Texas pitchers. . .Marceaux pitched out of jam in the first by getting Ryan Reynolds to fly out with two men on base and two out. But, Marceaux only retired one of seven batters in the second. He walked two, hit a batter, threw a wild pitch and gave up three hits. Marceaux walked four batters in 1.1 innings. . .George struggled in his relief outing. He gave up two runs and two hits with three walks and one strikeout in one inning. One of the two runs was unearned due to Beloso's error at first base. . .Both Beck and Hilliard threw extremely well in relief. Beck did issue three walks in 3.2 innings. Hilliard only walked one hitter in two innings. Tigers pitchers have walked 20 batters in the first two games of the series. . .Texas stole four bases in four attempts. Opposing teams are 22-of-23 on stolen base attempts this season. . .LSU is 8-2, while Texas is 9-3. . .The paid attendance was 7,601.
UP NEXT
LSU will play Texas at UFCU Disch-Falk Field in Austin on Sunday. First pitch is scheduled for 1 p.m. Central. Eric Walker will be the starting pitcher for the Tigers. The LSU-Texas game will be available on the Longhorn Network.
Never miss the latest news from TigerBait.com!
Join our free email list