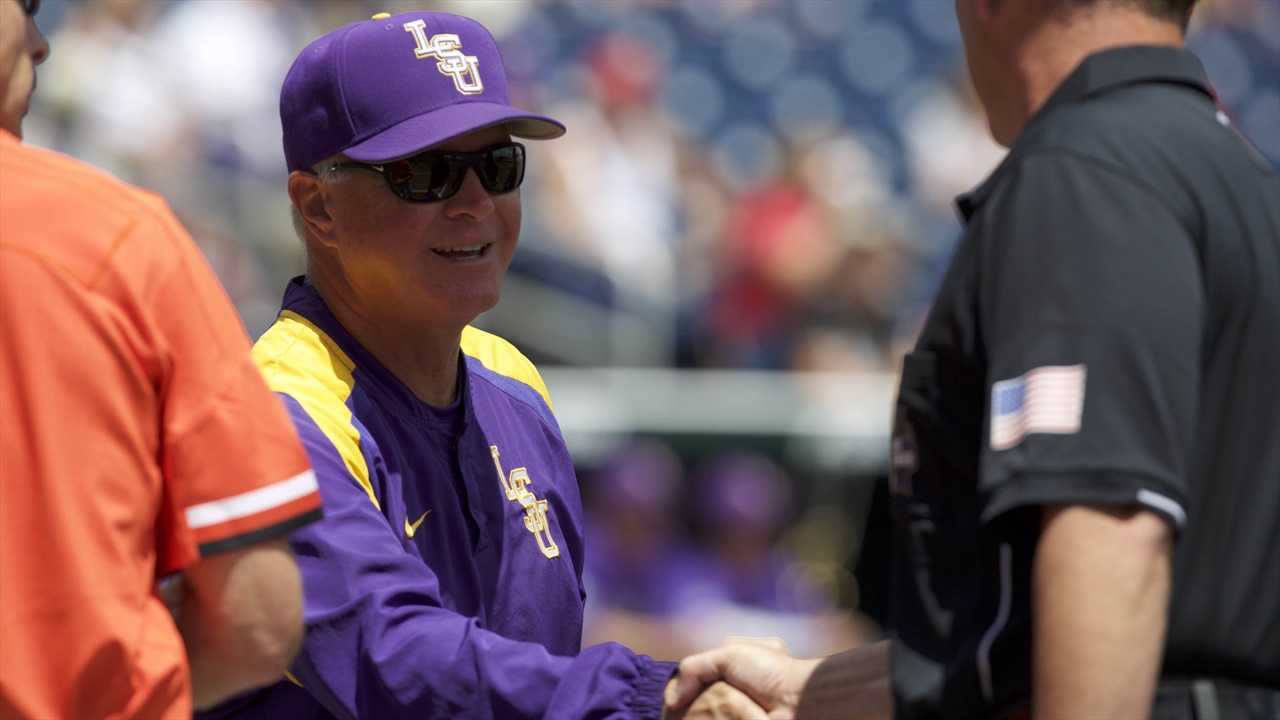 Photo by Bruce Thorson-USA TODAY Sports
LSU Baseball
Emotional time for Mainieri as SEC play begins
---
Normally, LSU coach Paul Mainieri is very excited on the eve of the Southeastern Conference baseball season.
But, it was a different Mainieri who met with members of the media Thursday for the first time after the passing of his father Demie Mainieri. A Hall of Fame baseball coach for his time at Miami Dade Junior College, passed Wednesday.
Mainieri became very emotional as he started to talk about his dad Thursday.
"I want to thank everybody for such an outpouring of support through phone calls, text messages and e-mails," a tearful Mainieri said. "It has been overwhelming. My father touched a lot of people in his life. I feel very fortunate to have had such a wonderful father for 61 years.
"He was more than a father. He was a mentor. He showed me what this profession (college baseball) is all about. (Former Miami coach) Ron Fraser learned from him. Skip Bertman learned from him."
Mainieri was in uniform for LSU's 16-5 victory against Texas Southern at The Box on Wednesday night. Mainieri did not bring the lineup card out to home plate before the game. He did not go to the mound to make pitching changes. Mainieri did not do his normal media obligations following the game.
However, Mainieri was definitely going to be in the dugout with his team.
"My dad always said it's not about you," Mainieri said. "It's about the kids. I let them know I was going to be there for them (Wednesday). I was there, but my assistants were doing much of the work. I felt my father's presence in the dugout. Both of us spent 80 percent of our lives together in a dugout."
Before the funeral for Demie Mainieri takes place Monday, his son's team will take on Kentucky in the first SEC series of the year. The opening game of the weekend will be Friday at The Box (7 p.m. Central/SEC Digital Network).
Mainieri and pitching coach Alan Dunn have settled upon the starting rotation for the series against the Wildcats – Zack Hess on Friday, Cole Henry on Saturday and Eric Walker on Sunday. Landon Marceaux, who threw three perfect innings at Northwestern State on Tuesday, will pitch in relief this weekend.
"Marceaux was great the other day," Mainieri said. "He will have an important role this weekend. Our pitching will be better when we get a couple of pitchers back (Jaden Hill and Chase Costello). We have to try and fight through this weekend."
Mainieri was happy to see the top four hitters in the lineup – Josh Smith, Zach Watson, Antoine Duplantis and Daniel Cabrera – come alive against Texas Southern. Watson had a career-high four hits, including his first home run of the season. Duplantis had three hits, including his fifth homer of the year.
"Hitting is a very difficult aspect of the game," Mainieri said. "Even the best hitters struggle. In the old days, we saw Blake Dean and Jared Mitchell and DJ LeMahieu struggle. There is so much pressure on these top four guys. It is really hard for us when they are not all hitting together."
Mainieri is happy that the schedule has the Tigers beginning conference play at home. LSU is 0-4 in road games this season – three losses at Texas and one defeat at Northwestern State. The Tigers' next two conference series are on the road – at Georgia and at Mississippi State.
"I am really glad we are opening at home," Mainieri said. "We haven't passed that test of being road warriors this year. We need to take advantage of being at home against Kentucky this weekend. I feel like we are moving in the right direction, but we are not there yet.
"We are still not certain on having the right personnel in there. There are certain areas I wish we were better and then there are other areas where I think we are really, really good."
Never miss the latest news from TigerBait.com!
Join our free email list