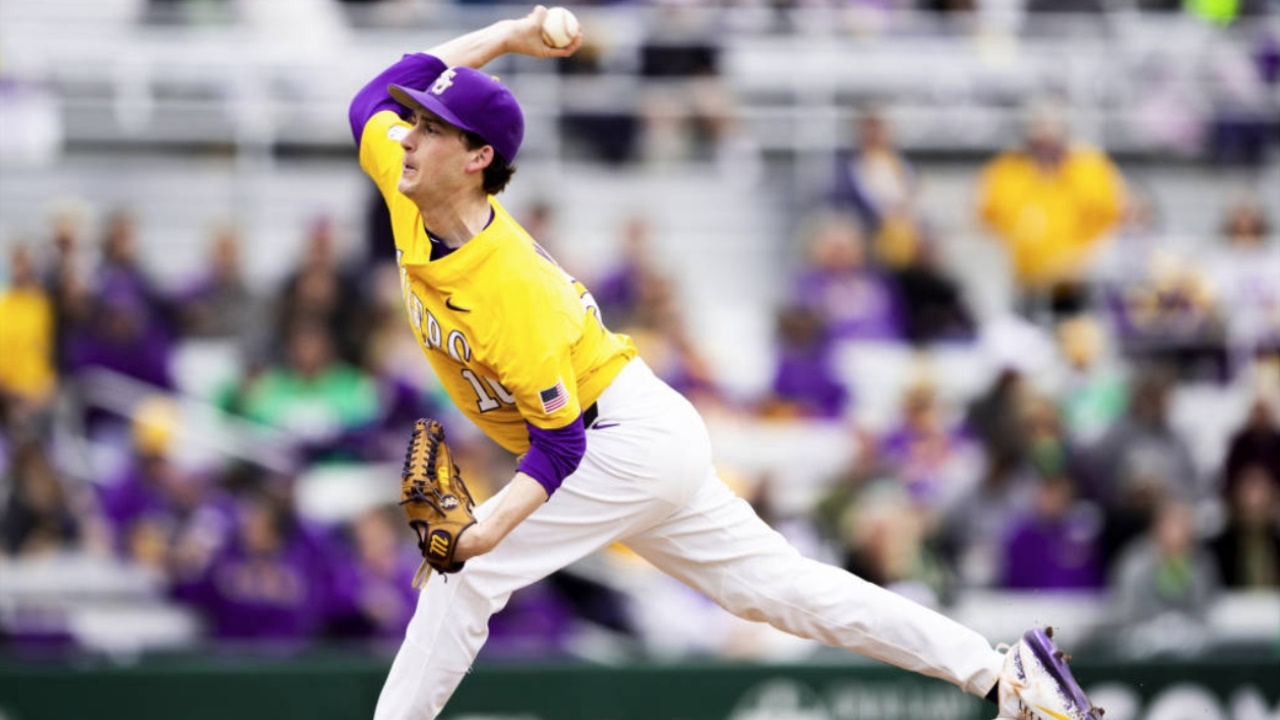 Photo by Rebecca Warren, LSU
LSU Baseball
For LSU it all comes down to starting pitching
---
LSU's hitters compiled a .402 batting average in last weekend's series against Florida.
Two Tigers players batted higher than .500 – Antoine Duplantis (9-for-16) and Josh Smith (7-for-13). A third LSU player batted higher than .400 – Daniel Cabrera (6-for-14). Three other Tigers hitters batted at least .333 – Giovanni DiGiacomo (5-for-13), Cade Beloso (5-for-15) and Brandt Broussard (4-for-12).
Still, the two players who were responsible for the Tigers' winning the series against the Gators were the starting pitchers in the final two games – Cole Henry and Eric Walker. Those two hurlers gave up a combined three runs and ten hits in 11 innings with no walks and 17 strikeouts.
Henry kept Florida scoreless in the first three innings while LSU went on top 2-0. The Tigers batters broke the game open with three runs in the fourth and five runs in the fifth. Meanwhile, Henry allowed one run in five innings. LSU was on its way to a 13-1 victory.
In the rubber game Saturday, Walker held the Gators without a run in the first three innings. In that span, Walker's teammates scored three times in each of the first three innings. The Tigers were well on their way to an 11-2 victory in the series' decisive game.
The reverse situation took place in the series opener Thursday. Florida's Tommy Mace held LSU scoreless in the first four innings. Meanwhile, the Gators jumped on starter Ma'Khail Hilliard and Chase Costello for ten runs. It made no difference that the Tigers ended up with nine runs and 16 hits.
Baseball will always come down to the effectiveness of the starting pitcher. LSU's lineup produced at least nine runs in each game of a Southeastern Conference series for just the fourth time since Paul Mainieri became coach in 2007. The Tigers swept the previous three series.
LSU did not come away with three victories against Florida because Hilliard was not up to the task as a replacement for the injured Zack Hess. So, the Tigers had to settle for two victories and lost a game in the SEC standings to Georgia, Arkansas and Vanderbilt – all of whom swept series.
Mainieri tried to play outfielder Zach Watson and third baseman Chris Reid in the first game of the series. It was obvious that neither player was healthy. So, both Watson and Reid sat out the final two games. Their substitutes – CJ Willis and Drew Bianco each had three hits.
Hess got his chance to pitch out of the bullpen Saturday. Testing his groin, Hess was fairly efficient. He permitted three of the ten batters he faced to reach base – two on hits and one on a walk. It must be seen if Hess will be available to make a start this weekend at Alabama.
The Tigers will complete the homestand with a non-conference game against Lamar on Tuesday night. Then, LSU makes a trip to Tuscaloosa to take on the Crimson Tide, which is competing with Kentucky and South Carolina simply to reach the SEC tournament.
The Tigers are now two games behind Georgia in the overall SEC standings. LSU probably needs a road sweep against Alabama to have an opportunity of catching the Bulldogs in the league standings.
More importantly, the Tigers must try to position themselves for a NCAA regional host bid. Normally, the SEC receives four host spots. At this time, three SEC teams are in good shape to be a regional host – Georgia, Vanderbilt and Arkansas. LSU and Texas A&M are the next teams in the pecking order.
If the Tigers are going to avoid a second straight year without hosting postseason baseball at The Box, they can afford no more off weekends. Receiving starting pitching as they did from Henry and Walker is a good way to have success.
Here is the remaining schedule for the top contenders for the SEC championship.
GEORGIA (13-5): at Mississippi State, Florida, at Auburn, Alabama
ARKANSAS (12-6): Tennessee, at Kentucky, LSU, at Texas A&M
VANDERBILT (12-6): Auburn, at South Carolina, Missouri, at Kentucky
TEXAS A&M (11-6-1): at Ole Miss, Mississippi State, at Alabama, Arkansas
LSU (11-7): at Alabama, Ole Miss, at Arkansas, Auburn

LSU Tigers Nike Colorblock Performance Polo - Purple
from: Fanatics
Never miss the latest news from TigerBait.com!
Join our free email list