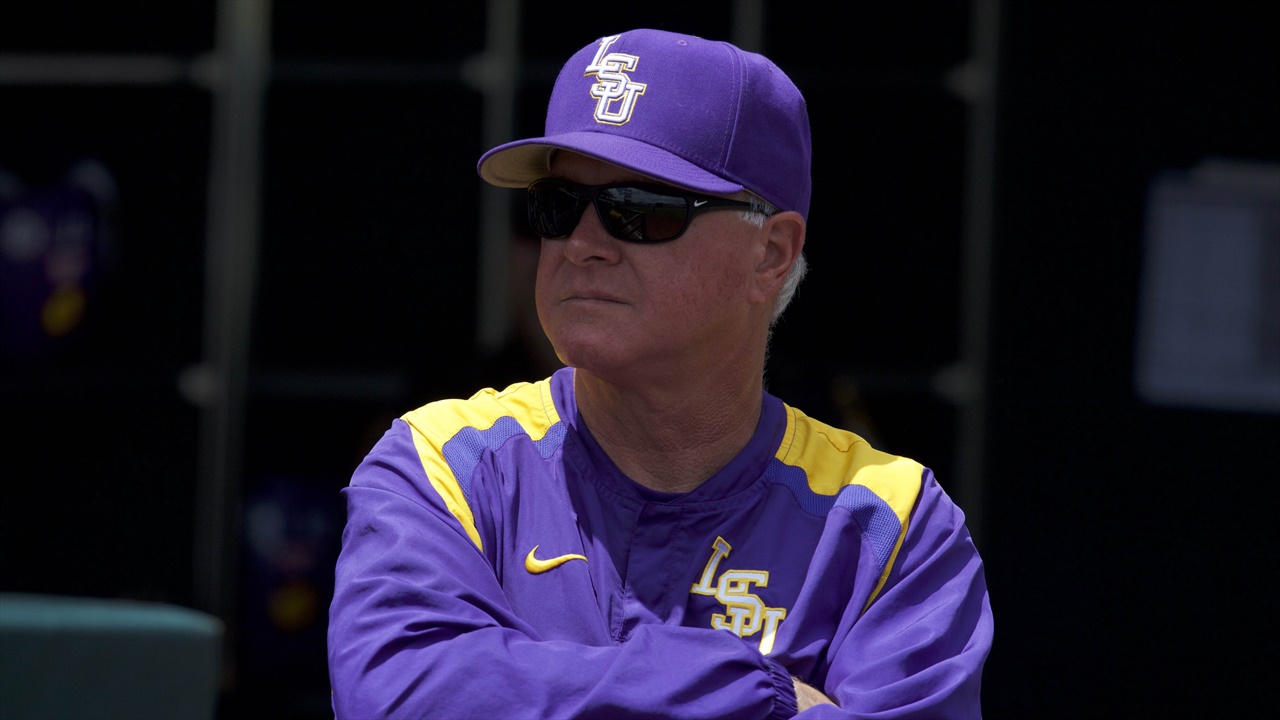 Photo by Bruce Thorson-USA TODAY Sports
LSU Baseball
Mainieri's big move delayed by injury
---
It was right about this time ten years ago that LSU coach Paul Mainieri made a major change in his lineup.
Mainieri moved DJ LeMahieu, a future major league all-star, from shortstop to second base so that he could insert freshman Austin Nola into the lineup. The Tigers went on to win the national championship following that position switch.
On Easter Sunday, Mainieri admitted that he was not eating crawfish. He was going through his mind all the moves which could be made to make LSU a stronger team for the stretch drive of the regular season.
Mainieri decided to make freshman Cole Henry his Friday night starting pitcher and shift Zack Hess to the bullpen. On Monday, Mainieri had a meeting with Hess about the change in his responsibility. However, just ten minutes after that sit-down with Hess, those plans were put on hold.
Henry, who struck out 12 in less than six innings against Florida last Friday, reported some stiffness in his elbow. Henry had a MRI done on his elbow. The results were negative. But, on Thursday morning, Mainieri decided to shut down Henry for the week. Henry did not make the trip to Alabama.
"It is disheartening," Mainieri said. "Cole pitched so great last weekend with 12 strikeouts in 5.1 innings. I thought he was on the road to greatness. The MRI showed his elbow was picture perfect. There is no ligament damage. It is nothing serious.
"I hope it's just a little fatigue. Cole only threw 40 innings as a senior in high school last year. He is already at 40 innings this year. Cole will play catch this weekend. Hopefully, he will be in line to pitch next weekend."
With Henry unavailable, Hess will return to his normal Friday night role against the Crimson Tide. Hess injured a groin muscle two weeks ago at Missouri. He threw 2.1 innings out of the bullpen last Saturday against the Gators. Hess was ready to move back to the bullpen, but now he will be a starter once again.
"We'll have to use a few more guys this weekend," Hess said. "This is something we've seemed like we've had to do every weekend this year."
Eric Walker will be the starting pitcher for the second game of the Alabama series. Mainieri has not decided on the starter for the series finale. Todd Peterson went to Mainieri saying that he wanted to be the Sunday starter.
"Peterson wanted to start," Mainieri said. "I told him we needed him in the bullpen since Hess will be starting. Landon Marceaux is the only pitcher who will not pitch in the first two games of the series. We'll decide after Saturday who will start the third game."
Peterson, who began the season as the closer, lost that job to Devin Fontenot. Peterson has been used as the main set-up man for Fontenot. Peterson has been making some longer outings in the last couple of weeks. When Henry returns, Peterson could become a starter with Hess heading for the bullpen.
The Tigers' four prized freshman pitchers – Henry, Marceaux, Chase Costello and Jaden Hill – have all been sidelined for some time this spring. Hill is still not able to pitch.
"The transition from high school to college is great for these kids," Mainieri said. "College is so different for these kids. They are now playing 56 games. Then, you have another transition from college to pro baseball. The changes scare them a little bit."
Mainieri gave a mixed review of the health status of the position players. Third baseman Chris Reid should be back in the lineup. Infielder Hal Hughes will be limited to defense. Designated hitter Gavin Dugas will be available and could start Friday.
Centerfielder Zach Watson has recovered from his groin injury, but he was ill Wednesday. Watson will not go to Tuscaloosa until Friday. It is not known if Watson will be able to play this weekend. Mainieri is leaning to having Saul Garza start a couple of the games at catcher against the Tide.
"I thought (making Henry the Friday starter and moving Hess to the bullpen) was our last big tweak for the stretch run," Mainieri said. "You can't fight injuries. You just have to deal with them. The guys have to rise to the occasion and get the job done this weekend."
Never miss the latest news from TigerBait.com!
Join our free email list