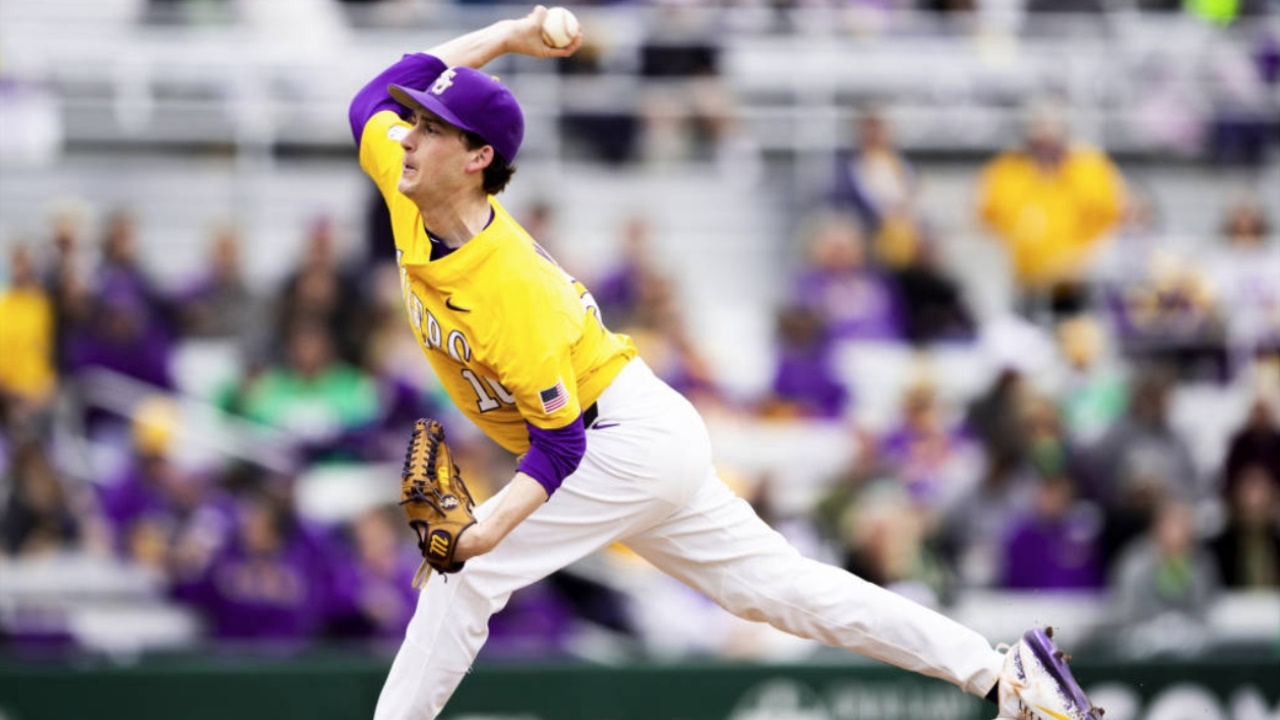 Photo by Rebecca Warren, LSU
LSU Baseball
Tigers continue to hang around in SEC race
---
LSU certainly didn't dominate an Alabama team, which is competing with Kentucky and South Carolina to simply qualify for the Southeastern Conference baseball tournament.
But, the Tigers did just enough to take two of three games from the Crimson Tide in Tuscaloosa last weekend to remain two games out of first place in the overall SEC standings.
Prior to last weekend, LSU was two games behind SEC leader Georgia. After getting swept at Mississippi State, Georgia is no longer at the top of the conference standings. Now, Vanderbilt and Arkansas are tied for first place – two games ahead of Georgia, LSU, Ole Miss and Mississippi State.
The Tigers had a below average series at the plate – batting just .235 as a team. Zach Watson was the lone LSU player with more than three hits over the weekend. Watson was 4-for-13 with one of the hits being a three-run homer which sparked the Tigers to their 5-2 victory Saturday.
Zack Hess, who stayed in the Friday night starter's role for another week, was tagged for five runs and eight hits in fewer than five innings. LSU lost Hess' start by a 6-1 score.
Outside of Watson, the offensive heroes in the two Tigers victories were two players who had done little this season. Freshman Gavin Dugas, who missed about two months due to a thumb injury, was in the lineup the last two games and collected three hits – including a key two-run single Sunday.
Sophomore Saul Garza, who has supplanted Brock Mathis as the No. 1 catcher, had three hits in two games. Garza snapped a 1-1 tie in the rubber game of the series with a solo home run. Garza has been solid defensively which has enabled him to earn coach Paul Mainieri's trust.
After Hess had another poor outing, Eric Walker needed to give LSU a strong performance. Walker did just that as he allowed one run and five hits in 5.2 innings. Walker struck out a career-high nine batters.
Facing a must-win situation Sunday, Mainieri turned to freshman Landon Marceaux. It has been a rough first year for Marceaux, who has been horrible on the road besides having to deal with an arm injury. Marceaux stepped up for the Tigers and gave up two runs and five hits in five innings.
The series-clinching victory did not come easily for LSU. Matthew Beck gave up a home run in the eighth which put Alabama behind by only two runs at 5-3. Then, closer Devin Fontenot made things interesting in the ninth.
The Crimson Tide scored one run and had the bases loaded before Fontenot ended the game with a strikeout. There was nothing artistic about Fontenot's performance. But, he did the one necessity for a closer – get the final out before the tying run scores.
It hasn't been pretty at times, however the Tigers have won five of their first seven SEC series – two of them away from home. LSU has been able to salvage one game in the two series it has lost. As a result, the Tigers are still in contention for the conference title.
More importantly, LSU is definitely in the mix for being selected as a NCAA regional tournament host. Three SEC teams merit greater consideration than the Tigers for being a regional host – Vanderbilt, Arkansas and Mississippi State. LSU is in a similar situation as Ole Miss and Georgia.
There is no non-conference game this week due to semester exams. The Tigers return to conference play Friday when Ole Miss visits The Box. The loser of the LSU-Ole Miss series will take a step back as regards hosting a regional.
The Tigers have reached the portion of the SEC schedule where style points no longer matter. It's a simple case for LSU. The Tigers need to win as many games as possible over the next three weekends. Playing as it did in Tuscaloosa will be just fine as long LSU wins at least two games in the series.
Here is the remaining SEC schedule for the teams contending for the league championship.
ARKANSAS (15-6): at Kentucky, LSU, at Texas A&M
VANDERBILT (15-6): at South Carolina, Missouri, at Kentucky
GEORGIA (13-8): Florida, at Auburn, Alabama
LSU (13-8): Ole Miss, at Arkansas, Auburn
OLE MISS (13-8): at LSU, Mississippi State, at Tennessee
MISSISSIPPI STATE (13-8): at Texas A&M, at Ole Miss, South Carolina
Never miss the latest news from TigerBait.com!
Join our free email list