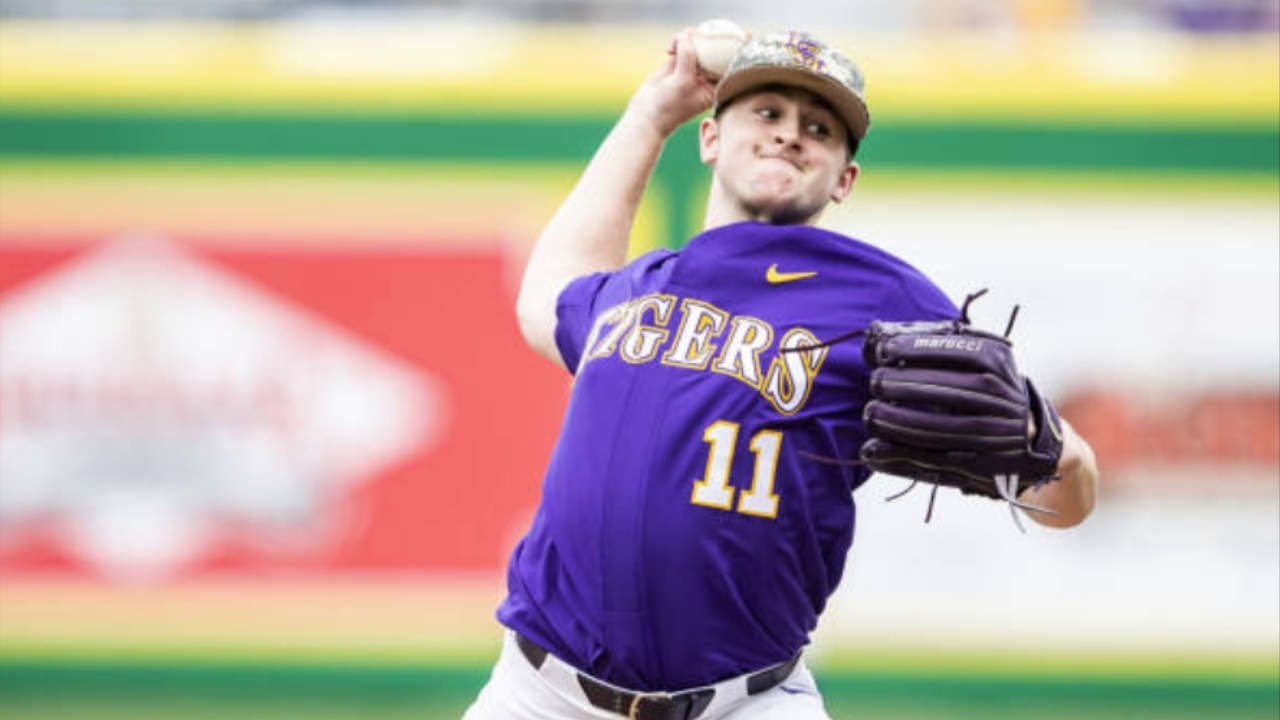 Photo by Gus Stark, LSU
LSU Baseball
LSU-Ole Miss baseball primer
---
No. 13 Ole Miss Rebels (30-16, 13-8 SEC) at No. 9 LSU Fighting Tigers (29-16, 13-8 SEC)
DATES/TIMES
Friday, May 3 – 7 p.m. CT (SEC Network +)
Saturday, May 4 – 6:30 p.m. CT (SEC Network +)
Sunday, May 5 – 2:30 p.m. CT (ESPN2)
STADIUM
Alex Box Stadium, Skip Bertman Field (10,326)
SPECIAL EVENT
LSU's 2009 National Championship team is celebrating a 10-year reunion this weekend and will be honored prior to Saturday's game
RANKINGS
LSU – No. 9 Perfect Game, No. 12 D1 Baseball, No. 12 Baseball America, No. 13 Collegiate Baseball, No. 14 USA Today
Ole Miss – No. 13 D1 Baseball, No. 15 Perfect Game, No. 15 USA Today, No. 17 Collegiate Baseball, No. 18 Baseball America
RADIO
LSU Sports Radio Network affiliates, including WDGL 98.1 FM in Baton Rouge
Live audio at www.LSUsports.net/live
Live stats at www.LSUstats.com
ONLINE
All three games may be viewed via SEC Network +
TV
Sunday's game will be televised on ESPN2
SERIES RECORD
LSU leads Ole Miss, 176-153, in a series that began in 1906. LSU has captured six of the last eight regular-season series with Ole Miss, though the Rebels won two of three games over the Tigers last season in Oxford. Ole Miss also defeated LSU in the championship game of the 2018 SEC Tournament in Hoover, Ala.
PITCHING MATCHUPS
Game 1
LSU – So. RH Ma'Khail Hilliard (0-2, 4.60 ERA, 29.1 IP, 12 BB, 37 SO)
Ole Miss – Jr. RH Will Ethridge (5-3, 2.67 ERA, 54.0 IP, 20 BB, 50 SO)
Game 2
LSU – So. RH Eric Walker (3-3, 4.99 ERA, 48.2 IP, 17 BB, 42 SO)
Ole Miss – Fr. LH Doug Nikhazy (5-3, 3.44 ERA, 52.1 IP, 18 BB, 55 SO)
Game 3
LSU – Fr. RH Landon Marceaux (3-2, 6.67 ERA, 28.1 IP, 13 BB, 22 SO)
Ole Miss – TBA
QUOTING PAUL MAINIERI
"I've coached against (Ole Miss coach) Mike Bianco for 13 years now, and I've always enjoyed the competition. He's an excellent coach, and he's got another excellent team. They've got a veteran team with a lot of guys who can swing the bat with authority. We're going to have to make good pitches to get them out. They also steal bases, and they've got good arms. We're going to have to be at our best to beat them. We know Ole Miss has an excellent team, and we're going to have to play at a high level to have a chance to win games this weekend."
ABOUT THE TIGERS
· LSU is 13-8 in the Southeastern Conference, and the Tigers are two games behind first-place Arkansas and Vanderbilt in the SEC overall standings … the Tigers posted a 2-1 series victory over Alabama last weekend in Tuscaloosa
· LSU has won five of its past six games … junior shortstop Josh Smith is the Tigers' leading hitter over that six-game stretch, batting .364 (8-for-22) with three doubles, one homer, five RBI and eight runs scored
· Sophomore right-hander Ma'Khail Hilliard will start Friday's series opener on the mound for LSU … Hilliard, who will make his fifth start of the season, has been effective in his last two relief outings, allowing one run on one hit in a combined four innings with one walk and four strikeouts
· Freshman right-hander Landon Marceaux posted two wins in two starts last week versus Lamar and Alabama … he worked a total of eight innings in the two outings, limiting the opposition to two runs on eight hits with four strikeouts … he defeated Alabama last Sunday in his first career appearance in an SEC game to clinch the series for the Tigers … Marceaux pitched five innings against the Crimson Tide, allowing two runs on five hits with three strikeouts … he earned a win over Lamar last Tuesday, pitching three shutout innings while limiting the Cardinals to three hits with one strikeout
· Sophomore right-hander Eric Walker defeated Alabama last Saturday as he recorded a career-best nine strikeouts in the win … Walker limited the Crimson Tide to one run on five hits in 5.2 innings … he allowed a solo homer to the first Alabama he faced in the bottom of the first inning, but he blanked the Crimson Tide throughout the remainder of his outing
· Sophomore right-hander Devin Fontenot recorded two saves in the Alabama series to increase his season total to six … Fontenot pitched a total of 2.1 innings in two appearances, allowing one run on one hit with one walk and three strikeouts … he pitched 1.1 perfect innings on Saturday with two strikeouts to preserve LSU's 5-2 win … on Sunday, Alabama scored a run against Fontenot in the bottom of the ninth to narrow LSU's lead to 5-4, and the Crimson Tide loaded the bases with two outs, but Fontenot struck out Bama DH Keith Holcombe on three pitches to end the game and earn the save
· Freshman second baseman Gavin Dugas, who has been recovering from a thumb injury, played last weekend for the first time since February 24 versus Bryant … Dugas started the Saturday and Sunday games at Alabama, and he delivered three hits in the series, including a two-out, two-run single to highlight LSU's three-run rally in the third inning of Sunday's win
· Sophomore catcher Saul Garza started the Friday and Sunday games of the Alabama series, and he was 3-for-7 at the plate over the weekend with a double and a solo home run … Garza homered in an SEC series for the second straight weekend after entering the April 18-20 Florida series with no homers on the year
ABOUT THE REBELS
· Ole Miss is 13-8 in the SEC, tied with LSU and Mississippi State for second place in the SEC Western Division behind Arkansas (15-6)
· The Rebels are coached by Mike Bianco, a former catcher (1988-89) and assistant coach (1993-97) at LSU … Mike's son, Drew Bianco, is a freshman infielder at LSU
· Ole Miss is No. 5 in the SEC in team batting average, hitting .287 with 49 home runs and 76 stolen bases in 91 attempts
· Sophomore infielder Tyler Keenan has team-highs of 11 home runs and 54 RBI for the Rebels … junior outfielder Thomas Dillard has nine homers and 41 RBI, and junior first baseman Cole Zabowski has nine homers and 39 RBI
· Ole Miss is No. 8 in the SEC in team ERA (3.97) … the Rebels have allowed the second-highest total of homers (41) in the league

LSU Tigers Nike 2019 Early Season Coaches Polo – Purple/Charcoal
from: Fanatics
Never miss the latest news from TigerBait.com!
Join our free email list