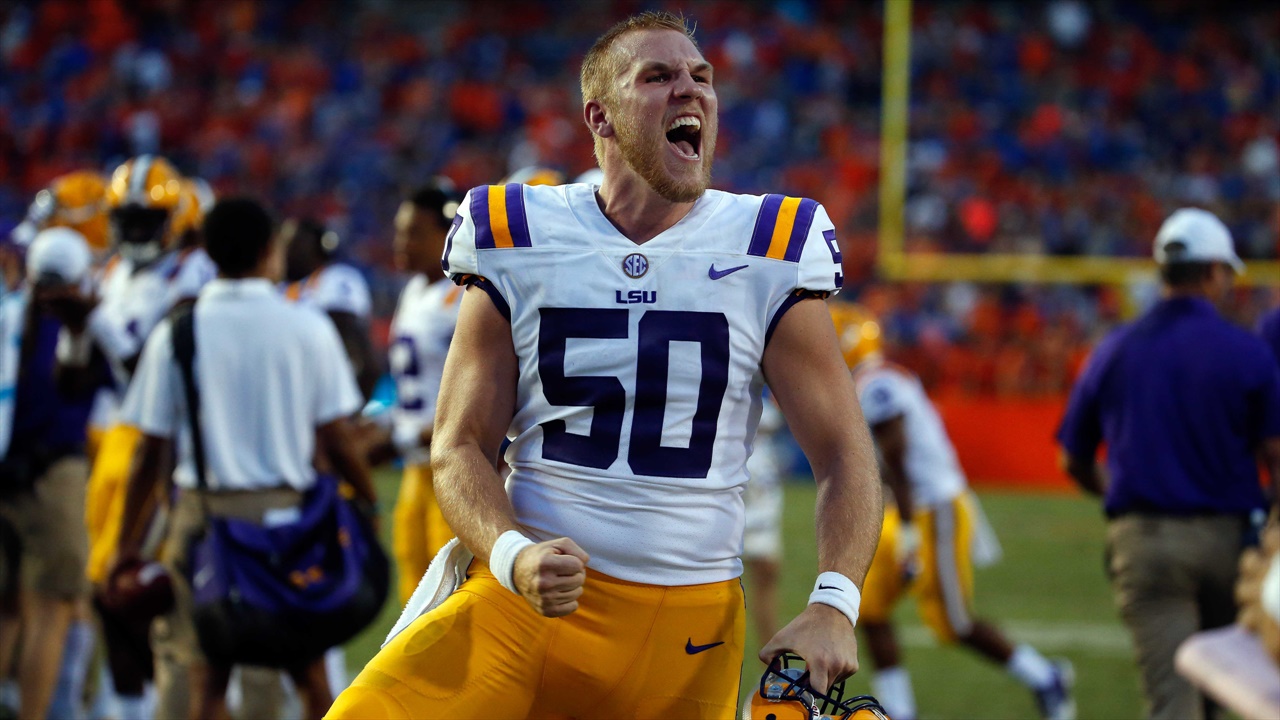 Photo by Kim Klement-USA TODAY Sports
LSU Football
New culture for LSU special teams
---
Welcome to the new TigerBait.com! We would love to have you as a premium member. Subscribe now for ONE DOLLAR!. Click here to join
Long snapper Blake Ferguson is a grizzled veteran when it comes to LSU's special teams units.
Ferguson, a redshirt junior, is in his third season as the Tigers' deep snapper. But, his connection with LSU special teams goes back further. The previous Tigers long snapper was Blake's brother Reid, who is now a member of the Buffalo Bills. Reid Ferguson handled long snaps from 2012-15.
So, Blake Ferguson has seen it all concerning LSU specialists for nearly a decade. He recalls the time the Tigers would release balloons to determine the wind direction on game day.
"Cameron Gamble would let a balloon go up in the air during pregame," Ferguson said. "That was a few years ago when coach (Bradley Dale) Peveto was the special teams coach. Now, we have Cole Tracy wanting to watch film of all the kicks at Auburn's stadium to see how the wind affects kicks."
Five specialists have led the way for a much-improved LSU kicking game through two weeks of the 2018 season – kickoff man Avery Atkins, field goal kicker Tracy, punter Zach Von Rosenberg, directional punter/holder Josh Growden and long snapper Ferguson.
Atkins, a freshman walk-on who will be returning to his hometown of Auburn (Ala.) on Saturday, has recorded touchbacks on 11 of his 13 kickoffs. Tracy, a graduate transfer from Division II Assumption College is perfect on kicks – 5-of-5 on field goals and 7-of-7 on extra points.
Von Rosenberg is averaging 45.1 yards on nine punts – six resulting in fair catches. Ferguson and Growden have been perfect on snaps and holds, respectively.
However, Ferguson gives a lot credit to new special teams coordinator Greg McMahon. An analyst a year ago, McMahon is now a full-time assistant coach. McMahon had worked with New Orleans Saints special teams from 2006-16. McMahon could not talk with the players while he was an analyst.
"It was tough last year for special teams with how it was set up," Ferguson said. "It was tough on (McMahon) and it was tough on (players). Coach McMahon wanted to change the culture in the (special teams) room this year.
"McMahon may not look like it, but he can get excited. A special teams coach has to be excited to get the guys to want to play on special teams. I am proud at how far we have come in our room since last year. The culture is great now."
Growden, who comes from Australia, is a redshirt junior like Ferguson. He lost his job as the No. 1 punter to Von Rosenberg early last season. Von Rosenberg is 27 years ago. He joined the Tigers football program after retiring from professional baseball after the 2014 season.
Von Rosenberg, a pitcher from Zachary (La.), signed with LSU in baseball coming out of high school. Von Rosenberg opted for professional baseball at that time after being drafted in the sixth round of the 2009 major league baseball draft by the Pittsburgh Pirates.
Von Rosenberg walked on to the LSU football team as a tight end/punter in 2016. He punted in 11 games last season – averaging 43 yards per punt. Growden still has a role as the Tigers' pooch-punter.
But, it has been the two newcomers – Tracy and Atkins, who have provided a much-needed jolt of energy for the special teams. According to Ferguson, Tracy is a student of the game.
"Cole goes in to our stadium and checks out the wind currents," Ferguson said. "The wind swirls in Tiger Stadium. The big American flag may be blowing, but the flags on the goal posts may not be moving. Cole wants to watch all the kicks in the stadiums, so it plays to his advantage.
"Tracy asked to see all the kicks at Auburn's stadium last year and this year. He wants to see how the ball reacts to the wind. He watches film to see how the kicks are missed."
Atkins was a football/soccer player at Auburn High School. A 4.0 student, Atkins could have attended an Ivy League school. But, he opted to be a walk-on kicker for LSU. Coach Ed Orgeron said this week that Atkins will get a scholarship as soon that is possible.
"Avery is really opening people's eyes," Ferguson said. "He takes on his work in a mature way. Consistently having the other team start on its 25 instead of the 40 is big. That's another one or two first downs the other team has to get and our defense is pretty stout."
Special teams have been a huge factor in the last two LSU-Auburn games. Last season, DJ Chark's 75-yard punt return for a touchdown sparked LSU's 27-23 comeback victory. Two years ago, Daniel Carlson kicked six field goals in an 18-13 Auburn victory.
"I remember (Carlson) had all of their points two years ago," Ferguson said. "With our field goal block team, we are going to block some of his little brother's (Anders) kicks this year."
Never miss the latest news from TigerBait.com!
Join our free email list