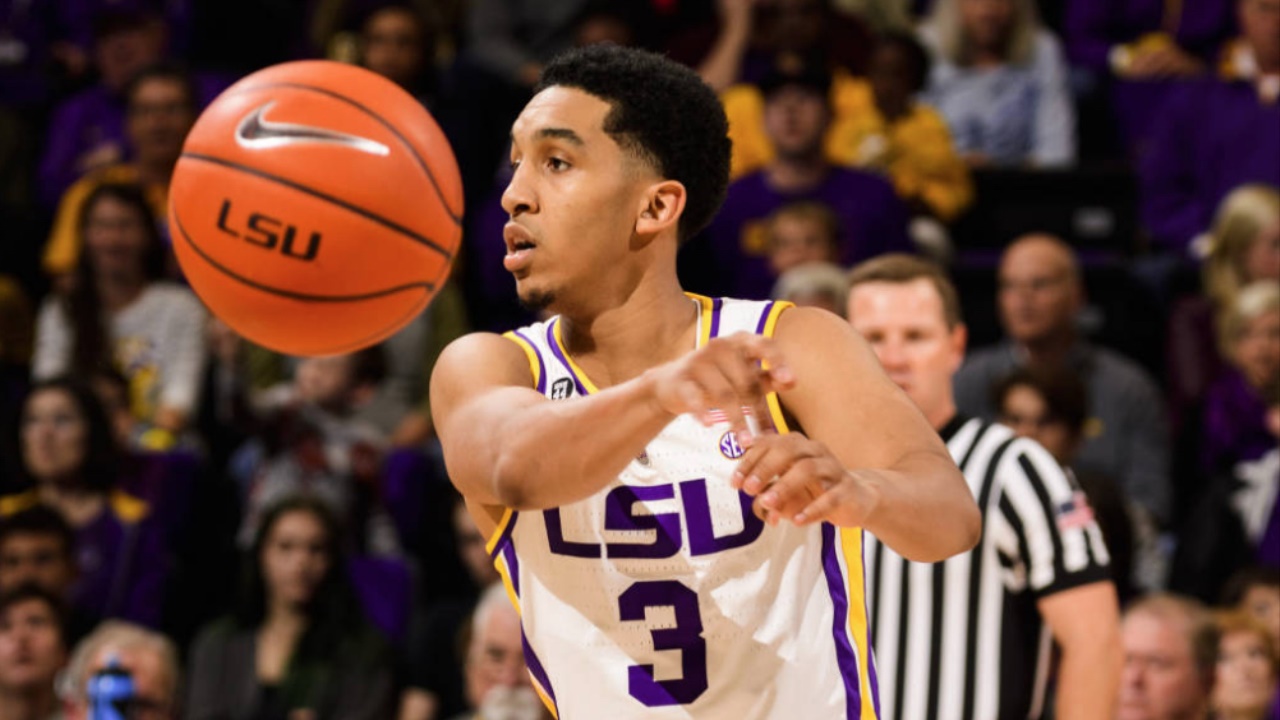 Photo by Chris Parent, LSU
LSU Basketball
LSU handles Grambling 78-57
---
LSU fans, jump on our "Early Signing Special" now. 2 Months of TigerBait.com for 2 Bucks!. CLICK HERE to get this deal before it ends
Darius Days had season-highs with 13 points and nine rebounds as LSU defeated Grambling 78-57 in a non-conference game at the PMAC on Saturday afternoon.
DECISIVE STRETCH OF THE GAME
LSU got off to a quick start by outscoring Grambling 14-2 in the first four minutes. Days had five points in that stretch – one free throw and two field goals. Tremont Waters and Kavell-Bigby Williams had baskets and Skylar Mays knocked down a 3-pointer. Ja'vonte Smart's field goal put LSU ahead 14-2 with 16:10 before halftime. In that span, Grambling was 1-of-5 from the field and committed three turnovers.
LSU PLAYER OF THE GAME
Promoted to the starting lineup, Days responded with his best game of the season – 13 points and nine rebounds. Days was 5-of-8 from the field. He also had a season-best three steals. Days' five field goals were also a season-high. Days scored five points when LSU jumped ahead of Grambling 14-2 to start the game.
KEY TEAM STATISTICS
Field goal shooting: LSU 46% (27-of-59), Grambling 39% (20-of-51)
Three-point field goal shooting: Grambling 71% (5-of-7), LSU 43% (9-of-21)
Free throw shooting: Grambling 71% (12-of-17), LSU 63% (15-of-24)
Rebounds: LSU 45, Grambling 24
Offensive rebounds: LSU 16, Grambling 5
Blocked shots: LSU 10, Grambling 5
Steals: LSU 11, Grambling 5
Second-chance points: LSU 12, Grambling 4
INDIVIDUAL LEADERS
LSU
Tremont Waters: 15 points, 5 assists
Darius Days: 13 points, 9 rebounds
Skylar Mays: 10 points, 6 rebounds
Kavell Bigby-Williams: 9 points, 9 blocked shots, 5 rebounds
Ja'vonte Smart: 9 points, 5 assists
Naz Reid: 8 points, 7 rebounds
Emmitt Williams: 3 points, 5 rebounds
GRAMBLING
Anthony Gaston: 12 points
NOTES
LSU's starting lineup consisted of Bigby-Williams and Days in the post, Smart and Mays on the wings and Waters at point guard. The five starters all played more than 20 minutes. Bigby-Williams played the fewest minutes of the starters with 24. . .Bigby-Williams' nine blocked shots were the most by a LSU player in 13 seasons. Tyrus Thomas blocked nine shots against Tennessee in the 2005-06 season. Bigby-Williams was 4-of-6 from the field. However, he missed three of his four foul shots. . .Waters made six of his eight field goal attempts, including 2-of-4 on 3-pointers. He also had three steals. . .Waters and Bigby-Williams were responsible for ten of the Tigers' season-high 19 turnovers. Waters had six turnovers and Bigby-Williams had four. . .Mays scored in double figures for the sixth straight game. But, he missed five of his eight field goal attempts. He was 2-of-6 on 3-pointers. Mays' six rebounds were a season-high. . .Smart had his second consecutive poor shooting game as he was 3-of-11 from the field. Smart made just two of 13 field goal attempts against Oklahoma State. . .Reid came off the bench and played just 18 minutes. He missed eight of his ten field goal attempts. Reid's seven rebounds matched his season-high. . .Williams, who played 20 minutes, missed all three of his field goal attempts. . .Marlon Taylor had nine points in 21 minutes. . .Walk-on Will Reese made a basket in the final minute. . .Daryl Edwards was not in uniform. . .Dallas Polk-Hilliard, who entered the game averaging 14 points and eight rebounds for Grambling, finished with two points and no rebounds. The 6-foot-7 wing, who was guarded by Mays to start the game, was 1-of-5 from the field. . .After trailing by 12 points four minutes into the game, Grambling hung around for the remainder of the opening half. A basket by Zavier Peart left Grambling behind LSU 31-25 with 3:13 before halftime. LSU scored the game's only four points in the last three minutes – a 3-pointer and one of two free throws by Waters. . .LSU outscored Grambling 11-2 in the first three minutes of the second half to go ahead 46-27. Days scored four of those 11 LSU points. . .LSU extended its homecourt winning streak to 12 games. Its last loss at the PMAC came against Georgia last January. . .LSU now has an 18-game winning streak against in-state opponents. The last Louisiana school to beat LSU was Nicholls State seven seasons ago. . .LSU is 6-2, while Grambling is 3-4. . .The paid attendance was 8,474. The actual crowd was a little less than 4,000.
FROM THE LOCKER ROOM
Coach Will Wade's comments: "Obviously, it was good to win. We had 16 offensive rebounds, but we have to continue to clean up the turnovers. We're not going to beat anybody of substance turning the ball over as much as we did. The ball moved better, especially to start the game. Days played great. Kavell did a good job blocking shots. Our 3-point percentage was better because we took better shots. We had only one or two poor 3s that we took. We were up 14-2 to start the game and that was a big product of Days and Kavell. Days eats up a lot of rebounds. Kavell runs the court hard and blocks shots. We didn't get off to a great start against Oklahoma State. Days and Kavell gave us the best opportunity to get off to a quick start."
NEXT
LSU will play host to Incarnate Word at the PMAC on Sunday, Dec. 9. Tipoff is scheduled for 1 p.m. Central. The Cardinals (4-5), who have lost three games in a row, will play host to Trinity University in San Antonio on Tuesday night. The LSU-Incarnate Word game will be available on the SEC Network.

LSU Tigers Nike 2018 Sideline Fly Rush Pullover Jacket – Purple
from: Fanatics
Never miss the latest news from TigerBait.com!
Join our free email list