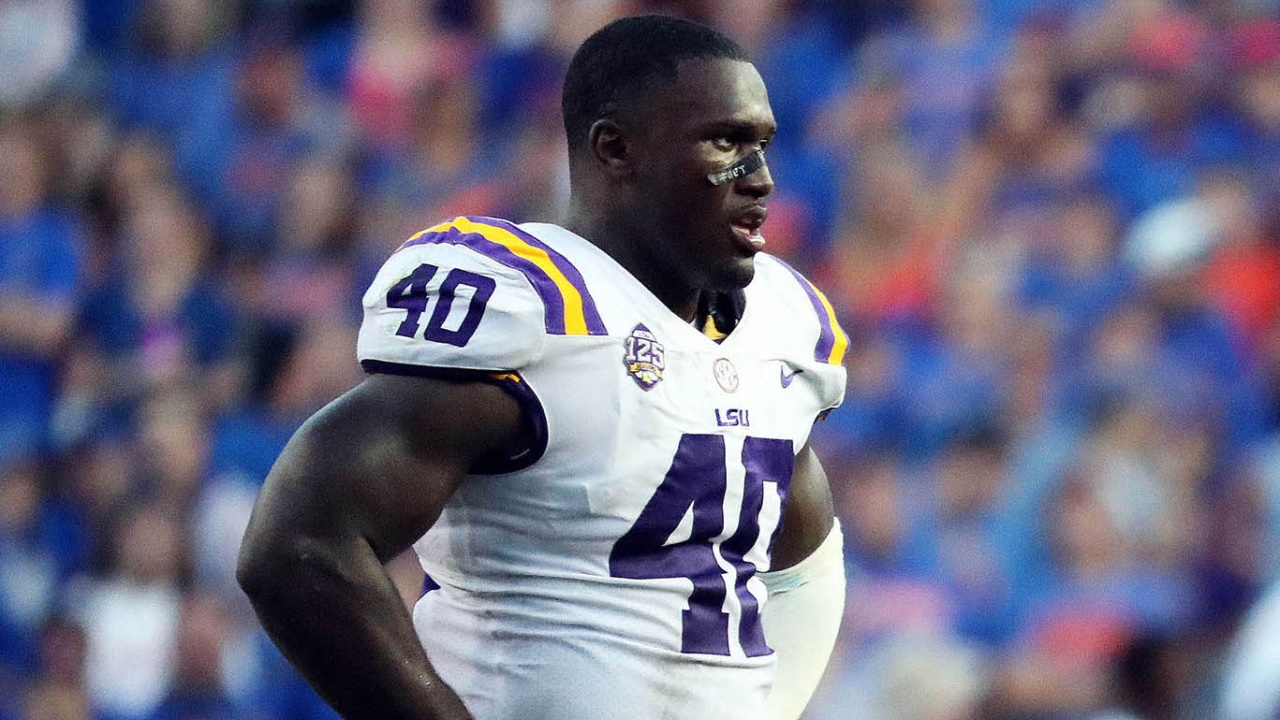 Photo by Kim Klement-USA TODAY Sports
LSU Football
Devin White wins Butkus award
---
We would love to have you as a premium member of TigerBait. Subscribe now and enjoy all of the benefits of a subscription. Click here to join
BATON ROUGE – LSU junior Devin White has been named the winner of the 2018 Dick Butkus Award, presented annually to the top linebacker in college football.
White was presented the 34th-annual Butkus Award on Tuesday afternoon in the Lawton Room on the LSU campus by Matt Butkus, son of legendary Chicago Bears linebacker Dick Butkus for whom the award is named.
White becomes LSU's first winner of the Butkus Award and winner of the school's 25th national award. White is the first LSU Tiger to claim a national award since Odell Beckham Jr. won the 2013 Paul Hornung Award.
White beat out finalists Josh Allen (Kentucky), Devin Bush (Michigan), Tre Lamar (Clemson) and Dylan Moses (Alabama) to claim the honor.
White, who was named first-team All-SEC by the AP and the league's coaches this week, had a career-best 17 tackles and 4.0 tackles for loss, including a sack, and a forced fumble in LSU's season finale against Texas A&M. He was named Southeastern Conference Defensive Player of the Week twice in 2018.
In 2018, White ranks second in the SEC in total tackles with 115 and his 12.0 tackles for loss stands No. 10 in the league. White is only the seventh player in LSU history to record 100 tackles in back-to-back seasons.
Now in his second year as a starting linebacker for the Tigers, White has 278 career tackles to go along with 29.0 tackles for loss and 8.5 sacks. He's also responsible for eight takeaways (four fumble recoveries, three forced fumbles and an interception).
Last season, White set an SEC record by being named the league's defensive player of the week four times. He led the SEC in tackles last year with 133, which ranks as the fourth-highest total in school history.
Butkus Award - Collegiate Winners
2018 - Devin White, LSU
2017 - Roquan Smith, Georgia
2016 - Reuben Foster, Alabama
2015 - Jaylon Smith, Notre Dame
2014 - Eric Kendricks, UCLA
2013 - C.J. Mosley, Alabama
2012 - Manti Te'o, Notre Dame
2011 - Luke Kuechly, Boston College
2010 - Von Miller, Texas A&M
2009 - Rolando McClain, Alabama
2008 - Aaron Curry, Wake Forest
2007 - James Laurinaitis, Ohio State
2006 - Patrick Willis, Ole Miss
2005 - Paul Posluszny, Penn State
2004 - Derrick Johnson, Texas
2003 - Teddy Lehman, Oklahoma
2002 - E.J. Henderson, Maryland
2001 - Rocky Calmus, Oklahoma
2000 - Dan Morgan, Miami
1999 - LaVar Arrington, Penn State
1998 - Chris Claiborne, USC
1997 - Andy Katzenmoyer, Ohio State
1996 - Matt Russell, Colorado
1995 - Kevin Hardy, Illinois
1994 - Dana Howard, Illinois
1993 - Trev Alberts, Nebraska
1992 - Marvin Jones, Florida State
1991 - Erick Anderson, Michigan
1990 - Alfred Williams, Colorado
1989 - Percy Snow, Michigan State
1988 - Derrick Thomas, Alabama
1987 - Paul McGowan, Florida State
1986 - Brian Bosworth, Oklahoma
1985 - Brian Bosworth, Oklahoma

Branded LSU Tigers vs. UCF Knights Black 2019 Fiesta Bowl Matchup Pullover Hoodie
from: Fanatics
Never miss the latest news from TigerBait.com!
Join our free email list