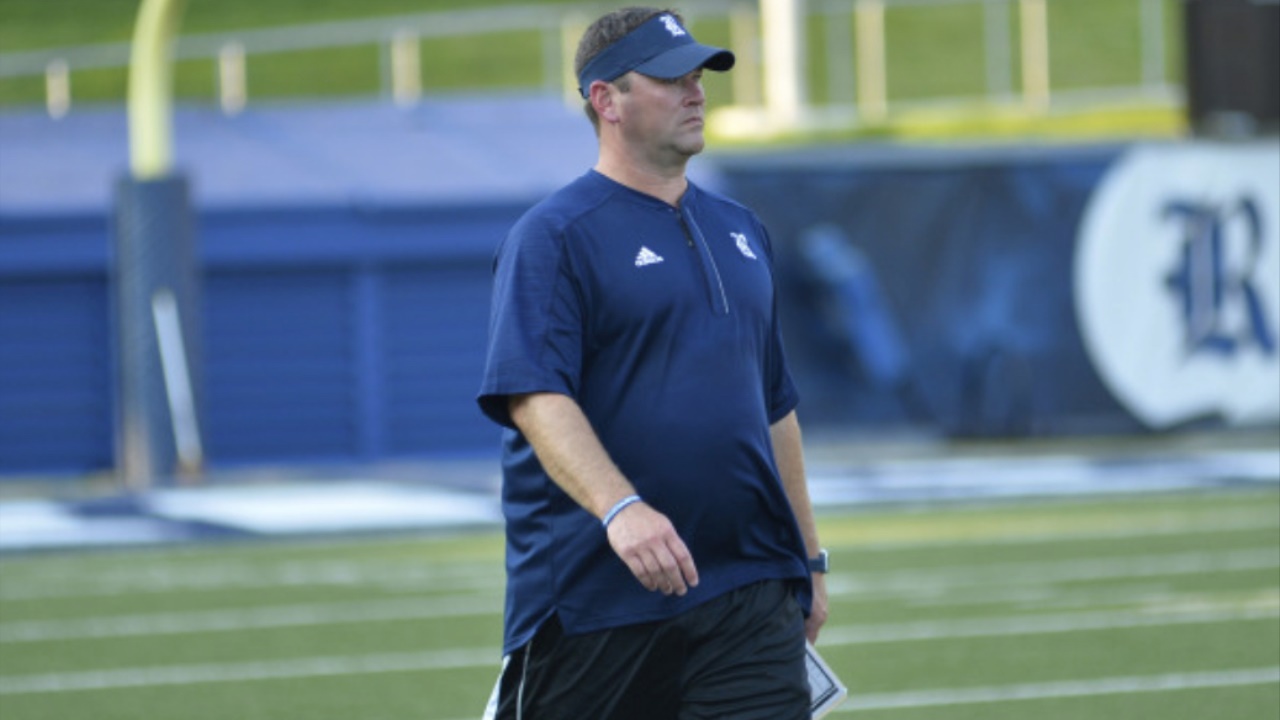 Photo by Rice Sports Information
LSU Football
LSU season preview: Rice
---
Welcome to the new TigerBait.com! After 20 years covering LSU, our team has struck out on its own and gone independent. Click here to read more about why we made the move.
The last three seasons have seen a steady decline for Rice football.
After reaching bowl games in three consecutive years, the Owls won a total of just nine games from 2015-17. Things bottomed out for Rice a season ago when it finished with a 1-11 record. The Owls escaped the Conference USA West cellar by defeating UTEP.
The three poor seasons cost coach David Bailiff his job after 11 seasons at Rice. The Owls replaced Bailiff with Stanford offensive coordinator Mike Bloomgren. The situation Bloomgren is inheriting on the field is nothing like what he left in Palo Alto.
A complete rebuilding job awaits Bloomgren, who doubled as the offensive line coach with the Cardinal. However, Bloomgren totally understands what it takes to be successful at a private school. Rice is a small institution with an enrollment of fewer than 7,000. Stanford's enrollment is more than 16,000.
"It is awesome to work with this caliber of student-athlete and to recruit that type of student-athlete," Bloomgren said. "You get to sell the true student-athlete model. There are five schools in the country with great academics and big-time football – Stanford, Northwestern, Vanderbilt, Rice and Duke."
The Owls return 11 starters from a team which lost five games by more than 30 points. Rice lost only two games decided by fewer than 13 points – 13-7 to Florida International and 24-21 to Old Dominion.
"It was extremely disappointing last year," said senior offensive tackle Sam Pierce. "But, we were not quitters. We didn't stop working. We have new coaches and a new system. We are going to be more aggressive this year. We want to show people that we are smart and we can play football too."
Not surprisingly, Bloomgren will utilize the offensive scheme which worked at Stanford. Jackson Tyner is projected to be the starting quarterback. He made just two starts while throwing for almost 600 yards last season. The offensive playmaker is wide receiver Aaron Cephus, who averaged 25 yards per catch.
"I have been a part of many different offenses," Bloomgren said. "We are going to do the Stanford model here. We want to pound the rock and control the clock. Our philosophy will be to impose our will on the defense."
Rice allowed gave up at least 30 points in all but four of its 12 games. Opponents averaged 426 yards per play. The Owls intercepted only three passes. Rice was No. 128 in turnover margin in the country at minus-23.
"After a season like last year, you have to be honest with yourself," junior defensive tackle Zach Abercrumbia said. "Everybody has to a real deep look in the mirror. We have to improve in all areas of the game."
LSU vs. Rice
Date: Saturday, Nov. 17
Site: Tiger Stadium (Baton Rouge)
Rice fast facts
Head coach: Mike Bloomgren, first year
2017 record: 1-11, overall; 1-7, Conference USA, sixth in the Western Division
Returning starters: offense, 6; defense, 5; specialists, 1
All-CUSA candidates: WR Aaron Cephus (6-4, 200, So.), OT Sam Pierce (6-6, 305, Sr.), DT Zach Abercrumbia (6-2, 300, Jr.), P Jack Fox (6-2, 215, Sr.)
Returning statistical leaders
RB Nahshon Ellerbe: 85 carries, 409 yards, 6 touchdowns
QB Jackson Tyner: 97 attempts, 46 completions, 47% completion rate, 598 yards, 2 touchdowns, 5 interceptions
WR Aaron Cephus: 25 catches, 622 yards, 5 touchdowns
LB Martin Nwakamma: 40 tackles
DT Roe Wilkins: 6½ sacks
CB Brandon Douglas-Dotson: 3 tackles-for-loss, 1 interception, 7 pass breakups
CB Justin Bickham: 1 interception, 7 pass breakups
S Jorian Clark: 3 tackles-for-loss
P Jack Fox: 57 punts, 44.2-yard average
KR Austin Trammell: 17 kickoff returns, 332 yards; 10 punt returns, 78 yards
Next Preview: Auburn
Never miss the latest news from TigerBait.com!
Join our free email list