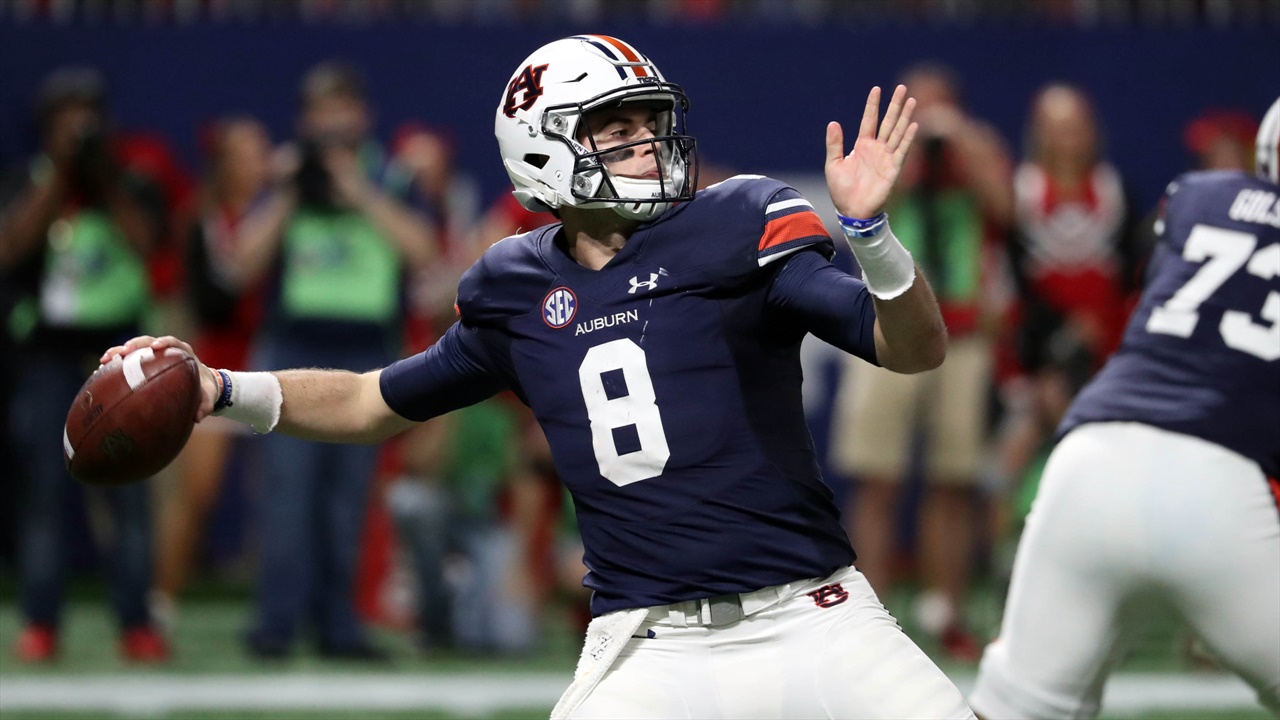 Photo by Jason Getz-USA TODAY Sports
LSU Football
LSU season preview: Auburn
---
Welcome to the new TigerBait.com! After 20 years covering LSU, our team has struck out on its own and gone independent. Click here to read more about why we made the move.
Quarterback Jarrett Stidham turned out to be a great transfer for Auburn.
Stidham left Baylor after one season and did not play football while spending a year in junior college. Stidham won the job at Auburn and ended up being the Southeastern Conference's Newcomer of the Year. He completed 67 percent of his passes for 3,158 yards and 18 touchdowns with six interceptions.
More importantly, Stidham led Auburn to the SEC title game on the strength of November victories against Georgia and Alabama – the teams who met for the national title. Auburn's national championship hopes were extinguished when it lost to Georgia in the SEC title game.
Still, it was a solid first year for Stidham as Auburn's offensive leader.
"At the beginning of last year, we started slow – kind of sluggish," Stidham said. "I was trying to figure out coach (offensive coordinator Chip) Lindsey. Coach Lindsey and (head) coach (Gus) Malzahn were trying to figure out who I was as a player.
"Throughout the season, we saw a progression week to week. We have a lot of guys coming back, especially at the skill positions. We're going to be hitting on close to all cylinders more so at the beginning of the season rather than waiting until halfway through. It's good to be good for us this year."
Stidham will have his top five receivers back in 2018 – Ryan Davis, Darius Slayton, Will Hastings, Nate Craig-Myers and Eli Stove. Both Hastings and Stove are recovering from knee injuries. Davis caught 84 passes a season ago. Slayton averaged more than 20 yards per reception.
Kerryon Johnson, who rushed for nearly 1,400 yards in 2017, is off to the NFL. Kam Martin, who ran for slightly more than 450 yards as Johnson's backup will be the No. 1 back. The Auburn concern on offense involves the line where guard Mike Horton is the only returning starter.
"The key to our offense is going to be our line and how quickly they can come together," Malzahn said. "We have three guys who have started a total of 20 games, so we've very inexperienced. But, I will say this, we're talented. It's just going to be a matter of time before that group jells."
Malzahn does not have to worry about his defensive front where three starters return – end Marlon Davidson and tackles Dontavius Russell and Derrick Brown. Those three players combined for ten sacks and 13 quarterback-hurries in 2017.
"You don't have to worry about when you come out of the game because of the caliber of talent we have on the defensive line," Russell said. "We can rotate down in and down out. We are in a position where we have a lot of people coming back. That puts in position to compete with the teams we play."
In addition, Auburn returns two of its best linebackers – Deshaun Davis and Darrell Williams. Those two individuals combined for 139 tackles a year ago. Davis had 3½ sacks and Williams had five quarterback-hurries.
"Our front seven will be our strength again," Malzahn said. "This is a group that's at least as talented or more talented than what we've had in the past.
"Dontavius is one of the more underrated players in the league. He's very unselfish and very consistent. Deshaun is our defensive leader. He's like a coach on the field. He plays with a chip on his shoulder with such intensity."
Auburn's defense under former LSU coordinator Kevin Steele has been good the last two years. Auburn opponents are averaging less than 19 points per game. Auburn has given up fewer than 20 points in 16 games under Steele. Auburn won 13 of those 16 games – losing twice to Clemson and once to Georgia.
"We know our defense can be pretty good," Davis said. "We don't know if we will be worse than last year's defense or if we will be better. Right now, it is all paper talk. At the end of the day, we have to step on the field and make plays."
Even though Auburn ended the season with setbacks against Georgia and Central Florida in the Peach Bowl, the defeat administered by LSU was the one which hurt the most in 2017. Auburn blew a 20-point lead and lost to LSU 27-23.
"It was a tough game to swallow," Stidham said. "But, I don't think we would've been in the position we were at the end of the year if we hadn't lost that game. It was a pretty low point in the locker room after that game. The next day, we came to work and got better. We just got on a run from that game on."
LSU vs. Auburn
Date: Saturday, Sept. 15
Site: Jordan-Hare Stadium (Auburn)
Time/TV: 2:30 p.m. Central/CBS
Auburn fast facts
Head coach: Gus Malzahn, sixth year (45-22)
2017 record: 10-4, overall; 7-1, Southeastern Conference, tied for first in the Western Division
Returning starters: offense, 6; defense, 7; specialists, 1
All-SEC candidates: WR Ryan Davis (5-9, 175, Sr.), WR Darius Slayton (6-2, 190, Jr.), QB Jarrett Stidham (6-3, 215, Jr.), RB Kam Martin (5-10, 195, Jr.), DE Marlon Davidson (6-3, 280, Jr.), DT Derrick Brown (6-5, 315, Jr.), LB Deshaun Davis (5-11, 245, Sr.), CB Javaris Davis (5-10, 185, Jr.)
Returning statistical leaders
RB Kam Martin: 74 carries, 453 yards, 2 touchdowns
QB Jarrett Stidham: 370 attempts, 246 completions, 67% completion rate, 3,158 yards, 18 touchdowns, 6 interceptions
WR Ryan Davis: 84 catches, 815 yards, 5 touchdowns
LB Deshaun Davis: 82 tackles, 3½ sacks
DT Derrick Brown: 5½ tackles-for-loss, 3½ sacks
DE Marlon Davidson: 3½ sacks
CB Javaris Davis: 2 interceptions
CB Jamal Dean 8 pass breakups
P Aiden Marshall: 43 punts, 39.4-yard average
KR Noah Igbinoghene: 24 kickoff returns, 571 yards
Next: Ole Miss
Never miss the latest news from TigerBait.com!
Join our free email list