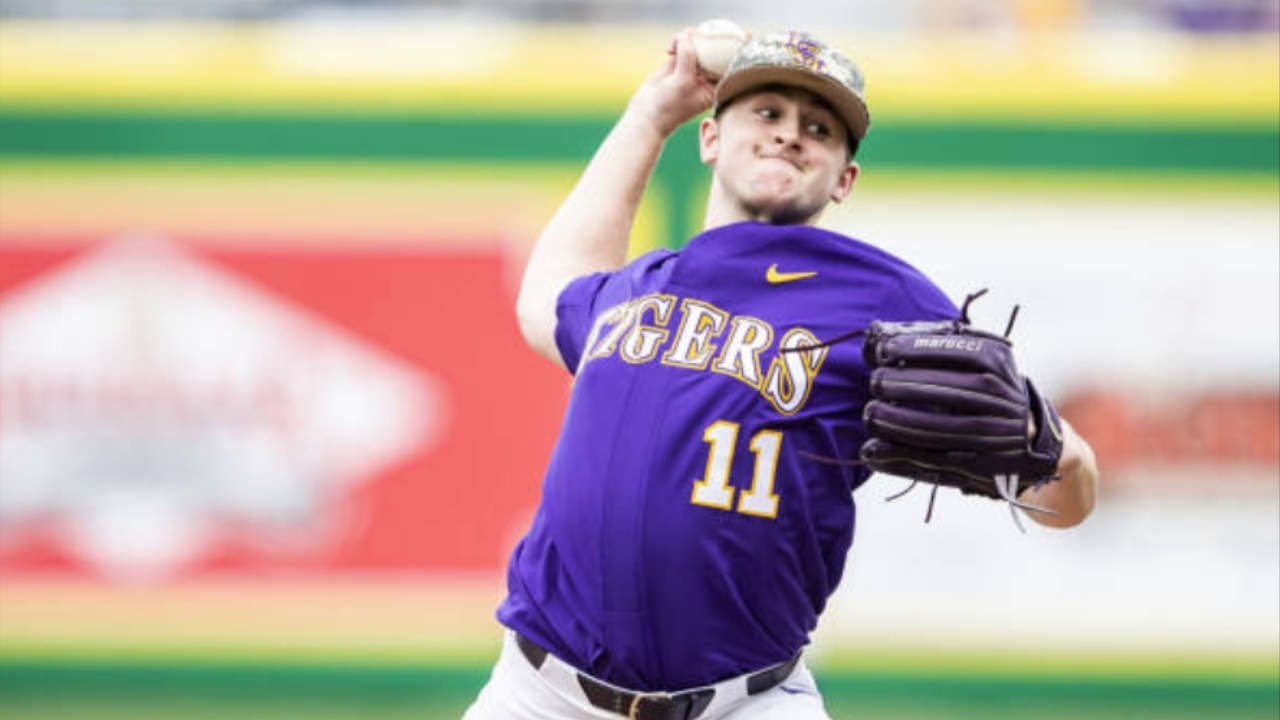 Photo by Gus Stark, LSU
LSU Baseball
LSU freshmen starting pitchers stand out over weekend
---
Welcome to the new TigerBait.com! We would love to have you as a premium member. Subscribe now for ONE DOLLAR!. Click here to join
For the 11th time in Paul Mainieri's 13 seasons as coach, LSU won its three games on opening weekend.
It was not an easy task for the Tigers, who scored the winning runs in their final at-bat in two of the three games. LSU scored five runs in the eighth to defeat Louisiana-Monroe 12-7 on Friday. Then, freshman Cade Beloso hit a three-run homer in the ninth to beat Army 6-5 on Saturday.
The Tigers finally had a breather Sunday when they scored seven first-inning runs on their way to a 17-5 victory against Air Force. One year after losing two of three games to Notre Dame on the first weekend, LSU returned to their normal winning methods.
"I knew those first two games were going to be tough," Mainieri said. "They gave us everything we could handle. We had to show a lot of moxie to win those first two games. We had a little bit of everything this weekend – great comebacks, a blowout, some super pitching and some clutch hitting."
The Tigers scored 35 runs and batted .349 as a team in going through the round-robin tournament undefeated. Josh Smith had a team-best eight hits, while Antoine Duplantis had a team-high ten runs batted in. Smith, Brandt Broussard and Daniel Cabrera had hits in each game.
But, the best news of the weekend came on the mound – specifically, the work of three pitchers. Freshmen Landon Marceaux and Jaden Hill delivered solid outings in their LSU debuts. Both pitchers gave up just one run – in 5.2 innings for Marceaux and five innings for Hill.
The third pitcher was Eric Walker, who allowed only one base runner in 2.1 innings out of the bullpen Friday. Walker, who missed last season due to Tommy John surgery, will get his first start Wednesday when the Tigers play Northwestern State in Natchitoches.
Walker displayed his usual poise and composure on the mound. Of his 40 pitches, he had 26 strikes. Walker gave up one hit and struck out two batters. It is Mainieri's hope that Walker will eventually work his way back into the Sunday starting role.
However, Walker may have a competition as both Marceaux and Hill were in complete control during their starts. Marceaux was nearly perfect through five innings as he allowed one hit and walked one. He began to tire in the sixth when Army drew a couple of walks and had a RBI single.
Staked to a huge lead, Hill coasted through the Air Force lineup through five innings. Showing a nice assortment of off-speed pitches, Hill struck out eight hitters in five innings. He gave up four hits and walked only one hitter. Both Marceaux and Hill showed they can be immediate contributors.
Now, the most disappointing portion of the weekend involved some of the pitchers – particularly, Friday starter Zack Hess. In what looked familiar to quite a few of Hess' starts in 2018, he gave up five runs and six hits in less than four innings.
Mainieri explained following the Friday game that Hess did not have an effective curve or changeup. The fast-ball hitting Warhawks squared up Hess' fast balls. A No. 1 pitcher cannot have these games in which he has just one pitch working. Hess cannot rely solely on his 90-plus mile-per-hour fast ball.
Hess will get another start Friday against Bryant. His huge test will take place the following Friday in LSU's series opener at Texas, a NCAA tournament team last season.
Three other pitchers, who are counted upon to be key members of the staff, had a less than stellar weekend. Although not pitching in a save situation, Todd Peterson staggered through his one inning. He got an inning-ending strikeout with the bases loaded.
Devin Fontenot entered the eighth inning of the ULM game after the Tigers had taken a 7-5 lead on a Duplantis home run. Fontenot allowed two runs as UL-Monroe tied the score. Freshman Chase Costello gave up a 2-1 lead when Army scored four seventh-inning runs. Costello did have a 1-2-3 inning Sunday.
Offensively, the top four batters in the lineup did most of the damage. Smith, Broussard, Duplantis and Cabrera were a combined 22-for-45 with 18 RBIs. Those four players scored a total of 19 runs. Both Duplantis and Cabrera hit two homers against the Warhawks.
Beloso was the only other player with two hits before the weekend finale against Air Force. In fact, five players – Zach Watson, Saul Garza, Drew Bianco, Brock Mathis and Hal Hughes were a combined 2-for-27 against ULM and Army. Those five players had a total of eight hits against the Falcons.
"We got everybody in the game Sunday," Mainieri said. "That was nice after the first two games were a little stressful. We are in midseason form and are ready to go. We just need to tighten up a few things with the pitching."
The Tigers' five game-week will begin Tuesday when Southeastern Louisiana comes to The Box (4:00 p.m. Central/SEC Digital Network). Freshman Cole Henry will be the starting pitcher against the Lions, who lost three games to Louisiana Tech in Hammond last weekend.

LSU Tigers Nike Vapor Untouchable Elite Full-Button Replica Baseball Jersey - Gold
from: Fanatics
Never miss the latest news from TigerBait.com!
Join our free email list